Ballet-oriented TV show Bunheads premiered on ABC Family Monday night, and already, after just one episode, Shonda Rhimes — the creative force behind ABC shows Grey's Anatomy, Private Practice and Scandal — has a problem with the series.
After watching, Rhimes tweeted:
Yep, the same old story. From Friends to Sex And The City and Girls, mainstream TV has a diversity problem. (Though we've seen that most TV for kids does a much better job of being integrated.)
In Bunheads — from Amy Sherman-Palladino, creator of Gilmore Girls — Broadway sensation Sutton Foster stars alongside a small group of four young actresses playing young dancers in a small town. (You can watch the full first episode here.) In the premiere, the young dancers do touch up on discrimination — but it's not racial. Ginny, a muscular girl who is called a "really great dancer" laments that she won't get into a Joffrey Ballet summer program because "they want bodies like Sasha" — Sasha being the leanest, lankiest, thinnest and most willowy in the group. "I'm going to end up selling real estate like my mother," she sighs. Four actresses make up the core of the cast, and they are of different body types and heights. Rhimes did appreciate that aspect of the program, tweeting, "I did love seeing girls of all shapes and sizes. That was great." Still, each of the four young actresses starring in the show are white.
G/O Media may get a commission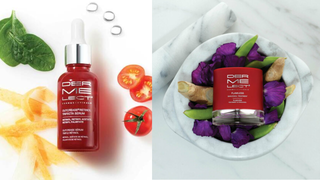 Save $19
Retinol Renewal Kit
As Carina Adly MacKenzie writes for Zap2It:
There's an argument to be made that if a showrunner/network/studio is producing a show about six teenagers, they have a responsibility to include characters that aren't white or — if the characters are sexually aware — aren't heterosexual. If a group of four ballerinas in a television dance class are given actual character development, perhaps they shouldn't all be white girls, shown in clear focus as their African-American and Asian counterparts mill about in the blurry background.
The funny thing is, ABC Family actually has a pretty good track record when it comes to including LGBT characters and people of color. Huge — named of the best shows of 2010 — had an incredibly diverse cast, and 2009's 10 Things I Hate About You not only featured a feminist heroine with a half-Japanese plus-size best friend, the most popular girl in school (a scheming cheerleader) was played by a black actress.
Bunheads is set in a small town where there's nothing to do — they don't even have a movie theater. Some might argue that there are plenty of small towns where white kids don't have any Asian, Latina or black friends, but Bunheads is not a documentary. It's fictional (why else would Sutton Foster be turned down for a role in Chicago?) and casting an actress of color is within someone's power. And when it comes to what's "real" — well, reality dancing shows like So You Think You Can Dance and America's Best Dance Crew are way more racially diverse than Bunheads. And the CW series Breaking Pointe follows the Salt Lake City Ballet Company, Ballet West, in which one can watch demi-soloist Sayaka Ohtaki (born in Japan).
As MacKenzie puts it:
If we want young people to feel strong, it can't hurt to show them strong characters who look like them. If we want young people to be tolerant and kind to people who look different from them, it can't hurt to give them the opportunity to see those people on their screens every week.
Grey's Anatomy Creator Shonda Rhimes Calls Out Bunheads for Lack of Diversity [E!]
Shonda Rhimes [Twitter]
Is It Amy Sherman-Palladino's Responsibility To Include Dancers Of Color On Bunheads For Shonda Rhimes' Kids? [Crushable]
From 'Girls' to 'Bunheads': Does every TV show have a diversity responsibility? [Zap2It]