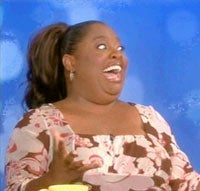 So, we always just assumed that Sherri Shepherd was working with a weave, or occasionally those ponytail falls. But this week, we realized that she's been rocking wigs this whole time. Her new gig as a permanent panel member of The View must pay well, 'cause girlfriend wore a different wig each day this week. After the jump, decide which look is working best for her.
This is the curly-coil Sherri we all know and loathe:
On Tuesday the texture of her hair reflected her thoughts about the shape of the earth: flat.
Today she went for curls that reflected her breasts: big, round, soft.