The surrogacy business is booming but it's anything but a well-oiled machine. On Tuesday, Sherri Shepherd and soon-to-be ex-husband Lamar "Sal" Sally sort of welcomed a baby boy via a surrogate in Pennsylvania. Sal was present but Sherri was not, nor has she mentioned the infant on The View because she reportedly doesn't want the child.
She thinks Sal duped her into a baby, which wasn't created with her egg, to milk her for child support after breaking up. So what happens now? It's all up to the courts. But which court?
Sherri filed for divorce in New Jersey, which doesn't recognize surrogacy, after Sal filed for separation in California, which does. It's unclear where the couple's divorce proceedings will take place and how that will effect the new little person born this week but Shepherd still hasn't made any comment, according to US Weekly.
Shepherd's hairy situation reflects the complications surrounding hiring someone else to make a human. Surrogacy laws vary from state to state but also from country to country, which can create an even bigger mess.
G/O Media may get a commission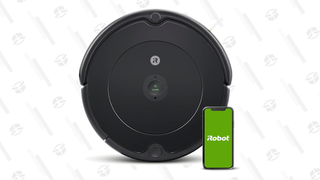 35% Off Black Friday Deal
iRobot Roomba 694 Robot Vacuum
Slate's Jessica Grose wrote about the surrogacy boom in Thailand, where Pattaramon Chanbua was left with one of two children she carried for an Australian family. As we've reported, once the couple learned that one of their growing twins developed Downs Syndrome, they told Chanbua, 21, to abort but she refused. Then when the twins were born, a surrogacy agent took the healthy infant to her new home, left the boy with Downs named Gammy and stiffed Chanbua on half of her fee. As if that wasn't enough, not only is the surrogate-hiring dad a cheap bastard, he is also a convicted sex offender.
And situations like what happened with Chanbua don't just happen in international waters. One surrogate named Crystal Kelly in Connecticut went into hiding to avoid aborting a fetus she was carrying for a New England couple.
The surrogacy contract she signed, according to CNN, said that Kelley would have an "abortion in case of severe fetus abnormality." The fetus was abnormal, Kelley refused to abort, and then she fled to Michigan when she was seven months pregnant. In Michigan—unlike Connecticut—the law doesn't recognize surrogacy contracts, so the person who gives birth has her name on the birth certificate. Kelley ended up giving the baby up for adoption, and the biological parents struck a deal with the adopted parents and got visitation rights.
Grose adds that there are also 50-65 Israeli babies born to Thai surrogates who can't join their parents because the Israeli government won't grant the kids citizenship.
There are so many ways for surrogacy to go wrong that it's a wonder anyone gets it right. However celebrities like Sarah Jessica Parker and Melissa Harris-Perry make it work, so there is hope ... if you have oodles of money. But right now, it's a reproductive jungle out there.
Image via Getty.