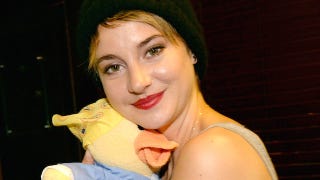 Wood sprite Shailene Woodley took a break from protecting the rainforest of FernGully to film White Bird in a Blizzard, a soon-to-be released movie that features a naked sex scene between her and Thomas Jane. The actress isn't too worried about revealing herself on camera, though — she's seen her own breasts and knows that they're spectacular.
Via Page Six:
About her oft-discussed sexy scene in the movie, it's "crazy. And sort of wrong. But I felt great doing it. I was not fully robed. And our bodies had no makeup. Who needs makeup? I'm only 22. My boobs are great. They don't need any help."
Nice to see a woman (who has consented to have her body shown) be so down with herself.
As for the awkwardness of having her loved ones watch the sex scene, Shailene is too blessed to be stressed:
"My parents saw the film. I thought it might be awkward, but they both loved it."
Yeah, they seem like the naked house-types.
[ Page Six]
---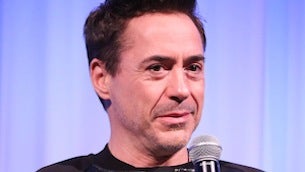 Here's a cute anecdote about Robert Downey, Jr. in the '80s: His Weird Science co-star Renee Props revealed to TMZ that the actor was almost fired from the film after he entered her trailer and took a shit on her chair. Republicans are into the most fucked up stuff, man. [TMZ]
---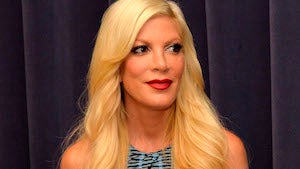 Donna Martin graduates from Ebola quarantine. Tori Spelling was cut off from other patients after being brought into Cedars Sinai Medical Center with Ebola-like symptoms. It was later determined that she was suffering from severe bronchitis and a sinus infection. [Gossip Cop]
---
Speaking of Ebola, Cam'ron is making the best out of a sorry situation by marketing surgical masks with his face printed on them. He will be to this epidemic what birds were to the bubonic plague. [TMZ]
Ryan Reynolds joked that he and Blake Lively will name their baby "Excalibur Anaconda Reynolds…that's if it's a girl." [E!]
Brad and Angelina's daughter Zahara Jolie Pitt wants to go into modeling so that she can be on magazine covers like her idol Lupita Nyong'o. [National Enquirer]
Sarah Michelle Gellar got a short bob and you know what that means: Buffy is sleeping with Spike again. [Twitter]
Magical character actress Beth Grant says that working on The Mindy Project has made her more comfortable talking about masturbation. [Cosmopolitan]
My husbands Key & Peele are making a movie! [MTV]
Here's Britney Spears doing a bad British accent for a UK cancer charity. More importantly, the video also features my husbands from the other side of the Atlantic, Richard Ayoade and Noel Fielding.
Images via Getty