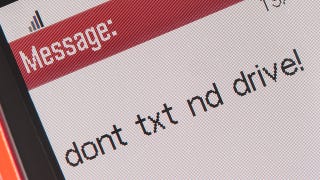 What's worse than texting while driving? How about sexting teenagers while driving a bus full of other kids? Friends, meet Darryl Bate.
According to the Telegraph, Bate was a PE teacher at Woodcote High School in Surrey, England. He's accused of conducting "explicit sexual banter" via text with three girls from another school, in several cases "while he was behind the wheel of a school minibus." He initially claimed that one of the girls was a "friend" and he didn't realize she was a teenager, a defense rendered implausible by one of his texts: "I'm worried cos of ur age." Also rejected: his assertion that his sexting was caused by jet lag.
Bate has been banned from teaching for two years, but won't face criminal charges. He apparently showed little regret for his behavior and was "hostile" during his hearing. In addition to his ignorance and jet lag excuses, he also says the bus wasn't moving when he sexted the girls. Because obviously that would make it totally fine.
Teacher Sent Explicit Texts To Pupils While Driving School Bus [Telegraph]
Image via Pixsooz/Shutterstock.com