You might remember swaggering, misogynist evangedouche/human Affliction tee Mark Driscoll from being terrible on Glenn Beck, being terrible on Fox and Friends, or being terrible any time he does anything ever, which is all the time. But he's really ramped up the action in the last month or so! It seems like dude can't open his praise-hole lately without face-planting in a big pile of PR doodoo.
Brendan Kiley at the Stranger rounded up some of Driscoll's latest greatest shits (if you aren't familiar with Mark Driscoll at all, you can play catch-up here):
The backlash against pastor Mark Driscoll of Mars Hill church is growing—and this time, it's Christians and former Mars Hill insiders who are beginning to lead it. This Sunday, Driscoll released a quasi-apology video with a little stab at his "critics" in the church, calling them "anonymous" with the implication that they're cowards. That kicked off the "We Are Not Anonymous" Facebook page (with comments like "Mark Driscoll you know who we are... look under the bus!") and calls for a protest at the Mars Hill Bellevue site this Sunday.

"It's like Romney at the party talking about the '47 percent,'" says protest organizer Jim Henderson (referring to the video capturing the presidential candidate dismissing 47 percent of Americans as idiotic freeloaders who will vote for Obama). "It's just one of those moments when he served it up for us to hit it out of the park."
And the VERY latest: Former Mars Hill members have dug up some old posts—written pseudonymously by Driscoll—in which he declares that "we live in a pussified nation" and, by contrast, "hell looks like a good place because at least a man is in charge, has a bit of order and let's men spit and scratch as needed."
HELL LOOKS LIKE A GOOD PLACE BECAUSE AT LEAST A MAN IS IN CHARGE.
Hahahahahahaha, crash and burn, dong-face. Thanks for confirming what we already knew about you: Faith is just a cover. Oppressing women and gay people is your real religion. You and your hate and your profit margins are your real God.
G/O Media may get a commission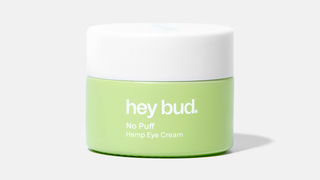 15% off
Hey Bud - No Puff Hemp Eye Cream
Here's just a taste of what Mark Driscoll, "hipster pastor," says when he thinks nobody's looking:
We live in a completely pussified nation.

We could get every man, real man as opposed to pussified James Dobson knock-off crying Promise Keeping homoerotic worship loving mama's boy sensitive emasculated neutered exact male replica evangellyfish, and have a conference in a phone booth. It all began with Adam, the first of the pussified nation, who kept his mouth shut and watched everything fall headlong down the slippery slide of hell/feminism when he shut his mouth and listened to his wife who thought Satan was a good theologian when he should have lead her and exercised his delegated authority as king of the planet. As a result, he was cursed for listening to his wife and every man since has been his pussified sit quietly by and watch a nation of men be raised by bitter penis envying burned feministed single mothers who make sure that Johnny grows up to be a very nice woman who sits down to pee.

So, Johnny hits youth group one day to hear from his pussified youth pastor that he should perfect his virginity and dating skills. So Johnny tries to be a loving and patient man who looks for a nice woman like mom who will whip him into shape and beat him into submission so that he can one day join a men's accountability group and learn how to keep his urges under control, which just causes him to be earn a B.A. in masturbation, M.A. in porno, and PhD in knuckleheadology as Johnny is now so terrified of women and his own penis that he sits in his room alone each night on the internet hoping to get some (with the occasional "falling into sin" with a woman as they inevitabaly cross "boundaries" of intimacy) because he's so afraid of women and has no idea how to take one, or love one, or serve one, or take one to bed and make the Song of Songs sing again.

One day Johnny finally gives in to the pressure of his pre-humpers singles ministry and gets stuck with some gal left on the shelf long after her expiration date that is just like dear old mom who wants him to shut up like Adam, take his beating, and join a church men's group that is really a woman's group in disguise complete with cookies and crying and antidepressants to cope with the insanity.

Poor Johnny is by now so completely whacked that he's afraid of having kids and hold off his taking on any more responsibility as long as he can because Johnny is a boy trapped in a man's body walking around in a world of other boys all trying to keep their pee pee behind their zipper and do just like their momma told them and be good women.

And so the culture and families and churches sprint to hell because the men aren't doing their job and the feminists continue their rant that it's all our fault and we should just let them be pastors and heads of homes and run the show. And the more we do, the more hell looks like a good place because at least a man is in charge, has a bit of order and let's men spit and scratch as needed. And all their whining and fighting is nothing more than further evidence that we are still kings and unless we do our job everyone and everything is getting screwed except Johnny (metaphorically speaking of course).

I know many of the women will disagree, and they like Eve should not speak on this matter. And, many men will also disagree, which is further proof of the pussified epidemic having now become air born and universal.

Pussified men are inarguably legion.

Nothing short of an exorcism is needed.
OKEY DOKEY, BRO. And there's so, so much more here.
Reminder: Over ten thousand people attend services at this man's churches. Hundreds of thousands of people watch his online sermon. Almost half a million people follow him on Twitter. If you live in the Seattle area, it's pretty much a given that someone you know has left your social circle for Mars Hill's promise of "cool Christianity"—which encourages members to distance themselves from non-believing friends and family.
This is what they left you for. This is Mars Hill.
Image via Mark Driscoll