In response to officials' admission that "physical attractiveness is taken into consideration" when making court assignments at Wimbledon, some commentators actually argued that there's nothing wrong with using sex to sell women's sports, but research suggests otherwise.
In his weekly sports column for The Nation, David Zirin writes that many have dismissed the revelation of sexist practices at Wimbledon, and some sportswriters are even defending the practice. L.Z. Granderson, writing in his ESPN column, says that he "found the Wimbledon officials honesty quite refreshing," adding:
Organizers are trying to sell their sport and believe the casual, straight male fan is more apt to watch attractive women-because if they had a love of the game, they wouldn't be casual fans, would they? In a sport in which Anna Kournikova, a player without a singles title, can become the most popular on tour, no one should be surprised by any of this.
As mentioned earlier, Jason Whitlock of Fox Sports was similarly unfazed by the biased practices at Wimbledon. In fact, he argued that the only thing preventing Serena Williams from being as big as Michael Jordan is that she spends too much time whining about sexism in tennis. Instead, she should accept the fact that sex sells and focus on reducing the size of her butt to a more media-friendly size.
G/O Media may get a commission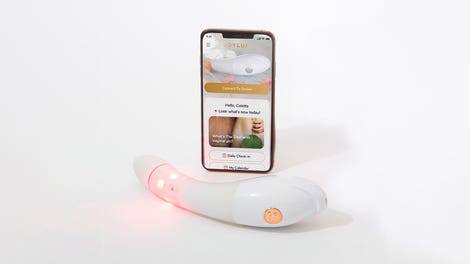 $50 Off
Joylux vFit Gold Device
According to Zirin, research by University of Minnesota sports sociologist Dr. Mary Jo Kane shows that sexy images of female athletes may make that women bigger celebrities but they don't translate into a deeper interest in their sport. Kane showed men and women sexy images of female athletes and found that while they may sell magazines, they didn't make the viewer any more invested in women's sports, and may actually alienate existing fans.
But, Kane says the focus on a female players' looks actually goes much deeper than just selling sports with sex appeal:
"This is also about what runs in the bone marrow of women's sports, namely homophobia. They are very well-meaning but they also want to distance themselves from the lesbian label. How do you do that? You reassure the viewing audiences, the corporate sponsors, the TV networks, and the female athletes themselves, that, No, no, no- sports won't make your daughter gay. Women's sports will be more acceptable if you believe, even though it is stereotypical and inaccurate, that if you are pretty and feminine in a traditional sense then you are not gay."
So as women struggle to be taken seriously as athletes, not just sex symbols, on the court, they're actually trapped between sexism and homophobia. The two stereotypes are are present even in the "grunting" controversy, in which the sounds female players make have been described alternately as sexual or overly masculine in nature. While the conventionally pretty Michelle Larcher de Brito has been called "more of a shrieker," last night during an interview with Serena Williams (clip below), David Letterman described the sound Williams makes as "kind of noise you associate with mayhem, like cage fighting."
At the core of both stereotypes is the idea that athleticism is inherently masculine. While women's sports are supposed to be about greater equality and empowerment, female athletes are still expected to strike a balance between being too sexy and not attractive enough. Unfortunately, until Serena Williams grunting on the court and wearing a dress and pearls during an interview are seen as equally feminine, there won't be a level playing field for women in sports.


Sexism On Centre Court [The Nation]
Finding The Beauty In Ugly [ESPN]
Earlier: Foul Ball
In Defense Of Grunts
Female Tennis Players: Faking It Like Meg Ryan?
Grunting Controversy Continues On Wimbledon's Opening Day