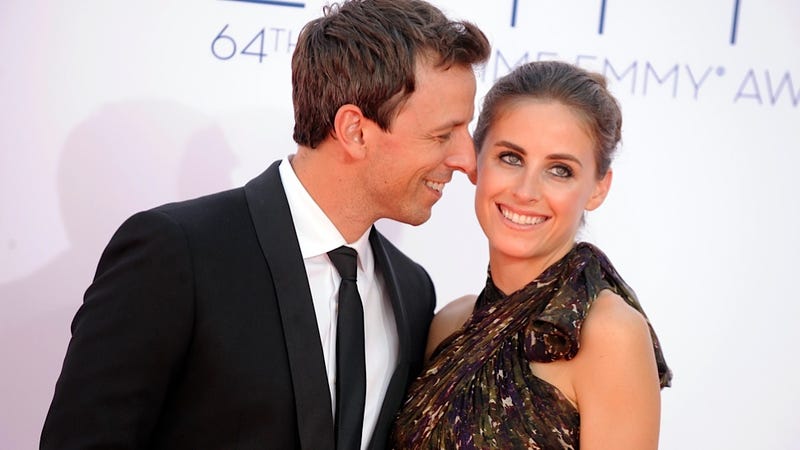 Probably the most theme-appropriate news of the extended Labor Day weekend is that Seth Meyers, former (sniff) Weekend Update desk jockey and future host of NBC's Late Night, married his longtime girlfriend, human rights lawyer Alexi Ashe, in an "intimate ceremony" on Martha's Vineyard. It doesn't get much more Labor Day-y than a wedding on Martha's Vineyard, does it?
A whole slew of famous entertainers attended the ceremony, including Jake Gyllenhaal (with a woman Us describes snidely as "his latest model girlfriend Alyssa Miller" Olivia Wilde and her slampiece Jason Sudeikis, and Rose Byrne. The tabloids named many other famous people, but Bill Hader wasn't part of the litany, leading me to believe that he did not, in fact, attend in character as Stefon. Which makes me sad, obviously. [NYDN]
Rumor has it that the soon-to-be-hit-single from Britney Spears's new album will be awesomely titled "Werk Bitch." [Breathe Heavy, Twitter]
But did you hear?? Lance Bass got engaged to his puppy-holding beau, Michael Turchin. [Buzzfeed]
"I have so many fucking issues," said Miley Cyrus, right before she compared herself to Justin Bieber. [Mirror]
And here is Amanda Seyfried walking with possible magic carpet co-pilot Justin Long. A very secret source told us where they were. [HuffPo]
Here is the source.
Justin Bieber is hanging out with all the best rappers so he can one day become the Optimus Prime of rapping. Or at least the Bumblebee of rapping. Okay, okay, maybe just a rapping GoBot. [NYDN]
Meanwhile, Chris Brown's neighbors are complaining about the decibel level of his conversations. [TMZ]
But if one truly aspired to be a rap legend, then one must face the reality of today's music industry: even "genius" rappers like Kanye West must give up a holiday weekend to perform at the weddings of the grandchildren of Kazakhstan's President. [TMZ]
Image via AP, Jordan Strauss