Sesame Street just got a new location. The Sesame workshop will be heading to Nigeria to extend its work in areas with heavy HIV saturation, building on their existing work with characters Kami and Big Bird.
Variety reports:
In October, Sesame Workshop hosted a seminar in Abuja, the capital of the African nation, assembling an advisory board of local experts on child health, teacher education and early childhood education, to determine the focus and content for "Sesame Street Nigeria."

The majority of the country's children live in poverty with limited access to basic education. Less than 30% attend preschool, and only 60% attend school at all.

The TV series will focus on fostering basic skills such as counting, literacy and analytic thinking, striving to empower children to reach their full potential by staying in school.
"Introducing Kami and Big Bird to children in Nigeria lies at the core of Sesame Workshop's mission to foster respect and understanding through the power of media and beloved characters from 'Sesame Street' co-productions," says Naila Farouky, producer of "Sesame Street Nigeria." "It is our hope that the series will make a strong impact among Nigerian children and their families to prepare them for school and life, as well as help them understand HIV and AIDS and acquire a foundation to overcome prejudices and stigmas associated with the diseases."

"Sesame Street Nigeria" is an extension of "The Adventures of Kami and Big Bird" pilot outreach project that launched in Nigeria this year.
While there was a bit of controversy surrounding the use of Kami, an HIV positive five year old Muppet, backers behind the project are hopeful that Kami can save lives:
Nigeria possesses the third largest number of HIV-positive adults in the world; and over 1.8 million children are orphaned by AIDS. In a groundbreaking effort to provide resources about HIV and AIDS to Nigerian children and caregivers, Sesame Workshop has partnered with The United States Agency for International Development (USAID) and Presidents Emergency Plan For AIDS Relief (PEPFAR) to bring a unique SESAME STREET project to Nigeria.

USAID and PEPFAR granted $500,000 to Sesame Workshop toward an educational outreach initiative that includes original videos and workbooks for children featuring SESAME STREET characters and caregiver guides; and is expected to reach 30,000 kids in Nigeria, many of whom are orphans and vulnerable children (OVCs). The initiative, entitled "The Adventures of Kami and Big Bird," launched Wednesday in Abuja.
G/O Media may get a commission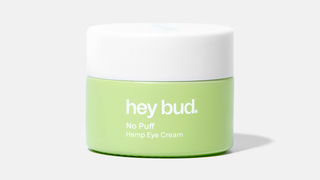 15% off
Hey Bud - No Puff Hemp Eye Cream
Nigerian born blogger Ebuka-Obi Uchendu celebrates the decision, making some interesting notes about both Sesame Street's forty year track record as well as Nigeria's history:
The very first episode of 'Sesame Street' aired on November 10th, 1969. Not a lot of Nigerians would have been able to watch that since we were in the throes of the Nigerian Civil War at that time. Television was also not as universal as it is today, with cables, satellites and the internet. Then, to watch 'Sesame Street' outside of America, you had to go negotiate with the producers, buy tapes and then air them in your local country. Yet, the show was (and still is) a huge success.

The original format was very simple; to educate children while also entertaining them. At the time, education was seeing as completely separate from entertainment. Why try to have fun while learning? Now, shows like 'Barney and Friends' and 'Teletubbies' all copy that format. [...]

The biggest plus for 'Sesame Street' was the fact that it never allowed any racial or social discrimination. At a time when blacks in America were still trying to live out Martin Luther King's dream, actor Northern Calloway was already one of the most popular human characters on Sesame Street, playing David the fun black guy who always gave advice to the residents of Sesame Street whenever they needed one. He was also good at rhyming and poetry; playing David on the show until 1990 when he died. [...]

On Saturday, October 31, 1959, the very first signals from the Western Nigeria Television (WNTV) were transmitted from Ibadan; launching the very first television station in Africa. From the humble beginnings when faces and names like Julie Coker were very famous, television seemed to have a very bright future. Then some of the best home grown productions followed. Everyone watched 'Cock Crow At Dawn', 'Behind The Clouds'; 'Samanja', 'Icho Oku'; etc. people could relate to stories from these home grown productions and from comedy to drama, there seemed to be a story for everyone.
As the 90's started to close out, most home grown shows did the same. The last show I remember paying a little attention to was; 'After The Storm', which ran on NTA sometime from 1997. Most other TV shows, even if a little popular, have failed to catch on wildly with the country. The 'Super Story' series, has tried to keep things fresh and original but even that seems to have lost a little steam with viewers. The very popular 'Tales By moonlight' which had the same appeal with children as 'Sesame Street' failed to re-invent itself over the years, which led to dwindling viewership and eventual scrapping of the show. [...]

I was not born when either 'Sesame Street' or Nigerian television were born but while both may have shaped my childhood in some way, it is only right to celebrate with the one who has shown consistency and the right attitude towards growth and success. No one likes to be associated with an inability to make progress. I sure do not. So, here are 40 hearty cheers to 'Sesame Street'. Like their theme song goes, it's still "Sunny days, sweeping the clouds away…"
'Sesame Street' goes to Nigeria [Variety]
Earlier: How Young Is Too Young To Teach Kids About AIDS?
Politics, Palestine, & Sesame Street
Sesame Street in Nigeria to Reach 30,000 Children [Animation World Network]
Sesame Street at 40; Nigerian Television at 50 [The Future Nigeria]