Say what you will about Serena's supposed temper, but the relationship between the Williams sisters sounds pretty sweet.
In a new interview with NPR, Serena talks about her book, On the Line, which documents her life in tennis, including her on-court relationship with Venus. Serena is close to her older sister, but she says she always felt like the underdog:
Venus was the big star. When we were growing up, it was a lot about Venus—it needed to be about Venus, because she was an incredible player. And that actually, being the little sister, the one that wasn't as strong, wasn't as good yet, gave me encouragement and the fight I have in my game.
While most of us can remember competing against our siblings at some point, being constantly pitted against your sister seems like it could lead to a truly fraught relationship. Not so for the Williams. Serena says she once told Venus that "we'll be sisters later." On the court, they are rivals, but after the game is over they go right back to normal. Serena explains:
In the book I talk about how difficult it was to be there. First of all, I didn't believe I could, and second of all, I was playing my sister. I had to come up with something new, that, right now, we're competitors, but the moment we shake hands and we're done with this match, we're sisters. I'm always happy for Venus, and she's always happy for me.
G/O Media may get a commission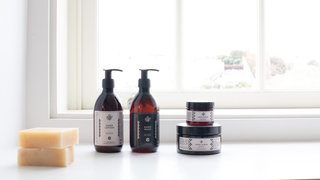 Exfoliate and Hydrate
The Handmade Soap Company
Serena also talks about an incident early in her career, when she was playing in a tournament at Indian Wells, and her sister was forced to drop out because of an injury. Serena says the angry fans booed and shouted racial epithets. "I was crying in my towel at the changeover. I would cry, and I knew that I had to go on," she recalls. "But I got strength from a lot of the situations like Althea Gibson, who ended up having to sleep in her car because of the color of her skin...And I thought 'wow, this is nothing compared to what they went through,' and I was able to draw strength from that to finish the match."
Serena does mention the recent incident at the U.S. Open, where she threatened a lineman. She offers a weak—but probably honest—explanation for her actions, but she continues to assert that the lineman's call was at fault. When asked "Why do you think that happened?," Serena responds: "A lot of things factored into it... This is a case where I may, not may, I definitely wore my emotions a little too far on my sleeve—on a bad call." She adds, "Just so you know, this is not the first time this happened in tennis, and I definitely think one moment doesn't make your career or define you as a person."
Serena Williams Puts Her Life Story Into 'On The Line' [NPR]