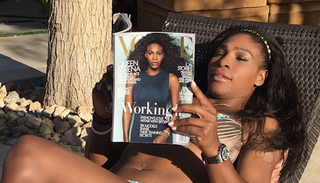 Here is Serena Williams doing exactly what all of us would do if we were on the April cover of Vogue and had Serena Williams' body and generally were just dope as hell.
I mean, this is about the coolest thing I've ever seen. Serena is looking chill as fuck just reclining in some warm weather environment with her stunning Vogue cover and thighs crafted by God herself because she's got it like that.
This is a woman who knows what it takes to win in every aspect of life.
---
Contact the author at kara.brown@jezebel.com .