Dig out your blue eyeshadow, your body glitter and your Aqua Net, because it's time for PROM WEEK on Pictorial.

The March 1994 edition of Seventeen magazine might have featured the one and only Joey Lawrence as its cover boy, but make no mistake: This issue was about prom, prom, and more prom.
The staff of Seventeen clearly set out to answer any and all questions their readers might have about this most major of high-school milestones. There are spreads on prom hairstyles; prom makeup; "pre-prom pampering at a day spa"; "sporty," "sophisticated," "unique," and "budget" prom makeovers; and, of course, dresses modeled alongside "TV's hottest guys." For the record that feature includes Joey Lawrence, Mario Lopez, and a bunch of dudes I don't recognize.
There's also a package headlined "Totally Prom," which offers all manner of guidance, promising: "Absolutely everything you need to know about going. Not going. Date-getting. Cost-counting. Drinking. Driving. Sex. And having fun." They even got two cents from a college sophomore who didn't go and didn't regret it:
My parents were like, "You'll regret this," but I don't at all. My friends spent a ton of money to go and ended up kind of bored. Meanwhile, a friend and I watched a whole bunch of cheesy old prom movies and laughed our heads off. We also went out and ate a ton of pancakes.
G/O Media may get a commission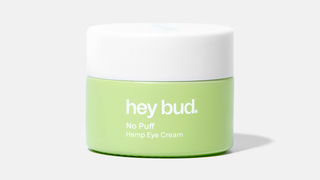 15% off
Hey Bud - No Puff Hemp Eye Cream
There's also a bit of advice for a young woman worried her date will expect sex: "If he pressures you again on prom night, stick to your decision and don't make up excuses. 'Saying you have your period or don't feel well negates your right to ask your date to respect your feelings,' says Dr. Eagle. 'You always have a right to say no.'"
Naturally, there were plenty of marketers looking to make their prom-specific pitch to the teens of America.
L.A. Looks apparently pioneered the doge joke format.
But the real gems are the ads from various formalwear makers. Please, feast your eyes upon the hottest prom styles of 1994. Sequins, off-the-shoulder sleeves, slit skirts, keyhole necklines, more sequins—truly a wonderful time for teen formalwear.

This particular prom is apparently being held at some hall of faux Egyptian antiquities.
SMH at the only girl from the crew who actually brought a date instead of going as a group like we planned, Cindy.
Jessica McClintock was betting on some bold looks this year. Please note that the most conservative looks are exclusive to Dillard's.
There is no way this woman is a teenager.
In fact, this might be the only actual teenager in the magazine. Maybe.

Feeling overwhelmed? You could stop by one of these Seventeen Prom Style shows at a department store near you!
But if you're really confident in your own decision-making, you could simply comb through the big, big supplement in the back with the directory of local dealers. Oh, to be sixteen and making truly bold fashion choices!

The glamour. The sparkly, sparkly glamour.
So many fire-engine red dresses to choose from.
But the true power move is rainbow sequins.
Perhaps with some chiffon?
If The Bling Ring had been set in 1994, they would have been stealing from Vanna White's closet.