A celebration will greet Caster Semenya and her teammates when they return to South Africa tomorrow — but Semenya's body type is still not celebrated in women's sports.
Semenya and the South African track team will take part in a rally at the airport, followed by a meeting with President Jacob Zuma for Semenya and the two other medalists. A weekend homecoming celebration is reportedly planned for Semenya in her hometown. Her family, her friends, and her government have been supportive of Semenya — the same can't be said for her competitors, or a sports culture that expects women to look a certain way. Runner Elisa Cusma said, "These kind of people should not run with us," and as Laurie and Debbie at Feministe point out, she's not the only one who thinks Semenya is unacceptable in some way. They write,
[W]e like our women at least a little fragile, at least a little vulnerable. Being blue-eyed and blonde makes a big difference too. We encourage women to be fit and strong, but not too fit, or too strong. Go to the gym, preferably at least three times a week, but pick those workouts so they don't give you "ugly muscles." Take up that sport, but don't get too good at it (we don't like our women really competitive, either).
As critics of the IAAF's gender testing have said, Semenya seems to have been flagged for testing solely because she's too good,and because her "ugly muscles" make her "look like a man." Whether or not she is found to have an intersex condition, the judgment sheds a lot of light on what we as a culture want women to look like, even when they are using their bodies for intense physical competition. Laurie and Debbie continue,
Women in day-to-day life face a lot of pressure to be the "right kind of women" (i.e., the ones men want). For celebrity women, the heat is turned up a lot … because, of course, celebrity women are the yardstick with which people measure the women they know, the yardstick by which the rules of sexiness, attractiveness, and appropriateness are determined.
G/O Media may get a commission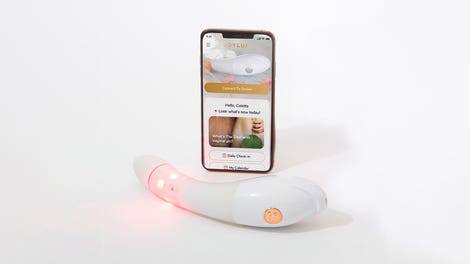 $50 Off
Joylux vFit Gold Device
When the celebrities are athletes, standards are even more complicated. Of course they're expected to win — and, presumably, they want to — but, paradoxically, if they do win, they may be criticized as insufficiently feminine. Laurie and Debbie point to a post by Unusualmusic at The Angry Black Woman, which tracks the career of Olympian Babe Didrikson and explains (quoting glbtq),
In the early 1930s, when Mildred "Babe" Didrikson, the greatest woman athlete of modern times, set world records in the woman's 80-meter hurdles and javelin throw, reporters continually remarked on her masculine appearance, and the press focused on the Olympic medalist in a campaign to restore femininity to athletics. The controversy finally ended when Didrikson married, started wearing dresses, and turned from competing in track, basketball, baseball, football, and boxing, to setting records in the more acceptably feminine world of golf.
Not much has changed since the early 1930s. Unusualmusic argues that women are expected to have "a thin shape, with a bit of a curvy shape, (but not too curvy, thats fat), and a distinct lack of muscles. So female athletes are by definition considered deviant." Some female athletes choose to respond to this perception of "deviance" by reasserting their traditional femininity. Basketball star Lisa Leslie, who has worked as a model and actress, recently told the Times that, "she has enjoyed being a role model, and that includes wearing lipstick and a ribbon in her hair on the court." She says,
It's always been important to me to show the young girls that it's O.K. to maintain their femininity and play sports.
On the one hand, showing girls that they can wear makeup and play sports is a good thing, as it demonstrates that sports aren't just for boys and that girls can embrace many different aspects of their identities. Danica McKellar has made somewhat similar comments, arguing that there's no contradiction between caring about fashion and liking math. The problem comes when female athletes (or mathletes) are expected to wear makeup, to be curvy, to lack "ugly muscles," not only to conform to traditional beauty ideals but even to make up for the fact that they're competing physically (or mentally) — an "unfeminine" thing to do. It may be "O.K.," as Leslie says, for young girls "to maintain their femininity and play sports," but they shouldn't have to submit to ideals of femininity imposed from the outside. Semenya doesn't do this, and for that she's a role model too.
Big Welcome For SA Runner In Gender Controversy [AP]
Women Athletes: Choose Between Strong And Sexy [Feministe]
American Women Athletes Part One: In Which Women Athletes Need To Be Sexy And Heterosexual (Preferably With Child/ren And Husband/boyfriend) [The Angry Black Woman]
Lisa Leslie, The Face Of The W.N.B.A., Prepares For Life After Basketball [NYT]
Earlier: Communists, Germaine Greer Weigh In On Semenya Sex Controversy