Caster Semenya won gold in the 800m at last night's World Championships, but she could be stripped of her medal if officials aren't satisfied with the results of gender tests. Her family, meanwhile, swears she's a female.
Semenya ran her race in an impressive 1:55.45, more than two seconds faster than silver medalist Janeth Jepkosgei of Kenya. But suspicions that she is not "entirely female" require her to undergo "extremely complex" gender testing, including examinations by an endocrinologist, a gynecologist, and a "gender expert." Officials of the International Association of Athletics Federations clarify that they don't believe Semenya has cheated by undergoing a sex change or hiding her true gender — rather, they think she has a "medical condition," such as some combination of male and female chromosomes. She will lose her medal if she is found to be "male," but it's not clear exactly what that means in her case, or what will happen if tests determine she is intersex.
Semenya's family, for their part, deny their child is anything but female. Her mother says,
If you go at my home village and ask any of my neighbours, they would tell you that [Caster] is a girl. They know because they helped raise her. People can say whatever they like but the truth will remain, which is that my child is a girl. I am not concerned about such things.
G/O Media may get a commission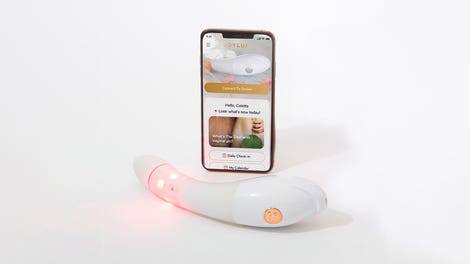 $50 Off
Joylux vFit Gold Device
Her grandmother adds,
She called me after the heats and told me that they think she's a man. What can I do when they call her a man, when she's really not a man? It is God who made her look that way.
Family and friends say Semenya has been teased for her appearance since childhood. Eric Modiba, head of her high school, says,
She was always rough and played with the boys. She liked soccer and she wore pants to school. She never wore a dress. It was only in Grade 11 that I realised she's a girl.
He adds that Semenya always wore the male version of the school uniform, with grey pants instead of a red skirt. Her friend Deborah Morolong says, "She never had a boyfriend. She doesn't like boys." But how Semenya dresses and whether she likes boys have no bearing on her gender. The real question is whether it's fair to subject a female athlete to complex medical tests when you're fully aware she's always identified as female. A spokesman for the African National Congress criticizes the gender testing, saying,
We condemn the motives of those who have made it their business to question her gender due to her physique and running style. Such comments can only serve to portray women as being weak.
It's true that if gender testing is something that athletes only have to undergo if other people raise suspicions — and if those suspicions are only raised when an athlete is "too good" to be female — then the process is hardly fair. The tests were once required of all female Olympians, but the process was discontinued because it was too invasive. This points to the great difficulty of determining "gender" in a lab in the first place — but if officials are going to try it, don't they need a better basis than whether someone "looks like a man?" And what happens if Semenya is found to have an intersex condition? Is it fair to ban all intersex athletes from competition? A woman with, say, more testosterone in her body might have a competitive advantage, but women produce different amounts of testosterone naturally, and women with long legs have an advantage too. All this points, as we mentioned yesterday, to the need for a clear definition of gender in sports and clear standards for determining it — both of which are difficult because gender itself is much more fluid than the concept of "gender testing" would imply.
Champion Female Runner's Gender Tested [AP, via CBS]
'She's All Woman': Mother Of Athletics Golden Girl Caster Semenya Rejects Claims Her Daughter's A Man [Daily Mail]
Mother Of 800m Winner Caster Semenya Dismisses Gender Questions [Telegraph]
ANC Condemns Semenya Gender Row [Mail and Guardian]
Earlier: Coach: Gender Concerns Reasonable Because Runner "Looks Like A Man"