Welcome back to Selfie Loathing, in which we present celebrity Instagrams without comment for your viewing pleasure. This week: Mindy Kaling looks "fucking weird" on the road to looking pretty; John Stamos gets medieval, and Katy Perry falls love with an alien life form. Enjoy.
#Postcardfromafar... Guess where?? Hint #2 : where you can catch these guys...
@lorraineschwartz I just ❤️you!! #Emmyfun
G/O Media may get a commission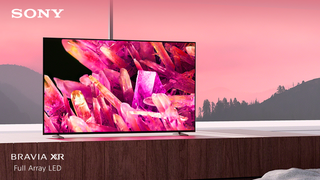 $400 off
Sony 55 Inch 4K Ultra HD TV X90K Series
Set life!!❤️❤️❤️❤️
The thunderstorm has literally left my hair standing on end. Is this normal?!
💅
💅Laque :)
Even Blackbeard does dead lifts. Training with @davidkingsbury #180kgs #PAN
Even pirates need a tune up now and again! At Centre Parc. #Blackbeard #PAN
#BTS for our @voguemagazine Cover shoot with these beauties @karliekloss @caradelevingne #SoExcited 😊 #Instagirls
#als #icebucketchallenge nominating @mattynable @brontella121 and @nashedgerton
Benin et Togo Flow. #TheLeanYears #RiceAndSauceLegume #PotRouge #Travel #EarlyAndOften. #TBT
Lil Ronan. Love this kid
YES! Can't wait to get back to training w @hollywoodhino so he can kick my ass again. This was almost 2 years ago!!! Have had no time to train w my crazy life but we're starting up again next week! We r doing 4 days in a row next week... 😲
#tbt when I was Bieber.
Nap after work
My Pony remix ft. @sirahsays
6 am glamour-puss. #votedemilovato
Look what I bumped into on my walk. Ellen DeGeneres. #happyfriday
#MoodyMondays @willaaaahh
many many weeks away from Halloween and yet the ears are back out 🐱 can you tell how excited I am already?😂
#behindthescenes of a really cool cover shoot! @itsryanrandall why you always gotta be #photobombing? 📷💣
Me and Iggy #doublebubbletrouble
#nearnipslip On the set of Galavant w/ the talented and oh so lovely @karendavidofficial
A Hard days Knight. #Medievaleyeliner.
Having a laugh on the set of Galavant.
He's back! #DamonSalvatore
Taking a nap between takes...
We're coming back! #season4 #loveyou
#hourglass #waisttraining #nophotoshopnecessary #whatawaist.com @premadonna87
We pose to the beat of our own drums @daniebb3 @tarynmanning 😘
We been drankin', we been drankin' (bottled water) @oitnb #season3 @sheisdash
SisterShit
Lip syncing to my own renditions , I couldn't sleep and wouldn't sleep. Bewitched, Bothered, Bewildered.
dis kitty
weird ass faces in some weird ass light
Before you look pretty first you have to look fucking weird
Got double nominated today. I guess I'll have to double donate :) Challenge accepted @brittsnowhuh and@catherinegiudici. I nominate #AubreyPlaza #JohnKrasinski and @catdeeley #IceBucketChallenge #YouKnowTheDrill
My new @officialrodarte kicks are taking me out on the town, better watch out! #fuschiamakesmesayanddothingsgreydoesnt
Matching lips! #nostrilselfie
Hehehhehe
Love my @lorraineschwartz sapphire and my nude mani @tombachik
Of course a selfie for #Chicago. @iamjhud. Now let me preorder that new album!! Congrats
#alsicebucketchallenge I accept @cochonbutcher call and further challenge @Ericripert to follow suit!
On my trusty steed exploring the back roads of Massachusetts. #DoOrDie #dangitspurtyouthere #summertime #usa #dreams
Me and @shannonleto horseback surfing. :) #shannonpeekabooleto
First look at @hilaryswank and me in #YoureNotYou, in theaters October 10th! In the film Hilary's character is diagnosed with ALS and I become her caretaker. The #ALSicebucketchallenge has been a wonderful way to bring attention and raise money for such a debilitating illness. I learned so much about life, death, humor, strength and kindness through making this film and meeting with people who have #ALS.
One of my favorite girls reading one of my favorite books written by one of my favorite women! #tinafeyrules #summerreading
Thank you boys!!! #glamteam
I would do it again in a heartbeat. Donate if you can. #ALSicebucketchallenge #sjpwhistlestop
HELP WANTED: MUST HAVE LARGE APPETITE, WET WIPES
Sunday line study! #alexvause #oitnb #season3
Beautiful day here in NYC! But pale skin and sun don't mix. #alexvause #needshade #coffintime #oitnb #season3
True love for 11 years. #fatAlbertaboy #startedfromthebottom
To all the trendy narcissistic people doing this #alsicebucketchallenge and NOT donating. Shame on you. Donate. alsa.org Don't disappoint!! I did it and donated. THAT'S THE POINT! Love to you all And if you're in California, reuse/recycle the water, we are in a drought.
Miami bedroom rehearsal. 105 degrees. Air conditioner broke. Ghetto like I likes it!
Doing interviews for the release of #Strut
I will always luh yew 👽