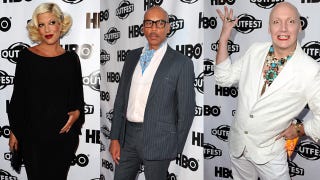 Unfortunately, most celebs who attended the events of this year's Outfest were terribly understated. It's not like we were expecting feather boas and rubber shorts, but even James St. James looked like he was attending a quaint luncheon.
Even though James St. James' outfit is uncharacteristically muted, he still tried to incorporate something "interesting" with this necklace, which mostly just looks like someone tied together elements from an elderly woman's junk drawer.
Can anyone else figure out what's going on with Tori Spelling's hair here? Is it a wig? Are those feathers? Or perhaps mini braids? And if so, why?

It was the ladies who wore the pants. I don't really know who Harmony Santana (center) is, but I do know that I don't care for her Hammer pants. Ileana Douglas see-thru shirt is just a mess and if it weren't for the purple shoes, Julia Ormond would look like a Banana Republic sales girl.

More slacks, this time on Kat Kramer, Joanna Kerns and Maria Conchita Alonso. Is Maria a lesbian or did she just play one on TV? I couldn't figure it out in a Google search, but I did learn that she is a Republican who backed John McCain in the last election.

Some chicks wore dresses like Calpernia Addams, Chely Wright and Andrea Martin, the results of which were all meh.

Given how casual everyone else has been at this event, tuxedos just seem like a bit much. However, I truly believe that it's better to overdress than under-dress, so Travis Wall and Tyler Ross get a pass (sort of, I mean, Tyler Ross' tux looks rented—what is this, prom?), but Jeremy Dozier's attempt at dressing it down just ends up making him look dumpy.

I give RuPaul Best Dressed. Rex Lee would look a lot better if he wore a shirt that fit. And Wilmer Valderrama thought it would be a good idea to tuck his pants into pirate boots.

Look, I realize that Chaz is probably psyched to have the ability to grow facial hair. That's a big deal. But just because it's a new look doesn't mean it's a good one. It's way too patchy and irregular to pull off the "good stubble" look. But much like a pubescent Amish boy, Chaz will figure out his facial hair in his own time.