It's well-known that sex-tips serializer, boinking bible, periodical of promiscuity, Cosmopolitan magazine sends out one, very toned-down, cover to advertisers, while another, significantly racier, cover goes to the newsstand — but playing spot-the-difference with 17-year-old Dakota Fanning's new cover is still fun. "Feel Close After A Fight" magically drops its panties to become "His Best Sex Ever." While one cover promises "Spring Clothes, Hair, Nails!" — all Things, Advertisers, Sell! — the other boasts "Too Naughty To Say Here! But You Have To Try This Sex Trick." "Women and Danger: This Decision Could Cost You Your Life," interestingly, is considered both newsstand- and advertiser-appropriate. [NYObs]
---
Now you too can buy a sweater vest approved by New Hampshire primary loser Rick Santorum. The vests cost $100. And here we were hoping for a limited-edition Santorum collaboration with Astroglide. [HuffPo]
---
G/O Media may get a commission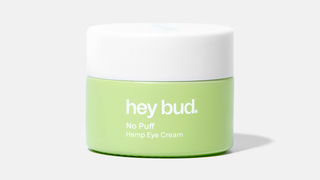 15% off
Hey Bud - No Puff Hemp Eye Cream
Fashionista asks the question, is this new Michael Kors ad racist? It depicts a white couple on Safari in South Africa, and there's the ol' black-person-in-the-background trope again. We'd wait for the full campaign to drop before passing judgment, but at a glance it does seem terribly unoriginal. [Fashionista]
---
Christina Aguilera is on the cover of the new Marie Claire; looks like someone's wearing a heavy dose of Fotoshop by Adobé. [DFR]
---
Jamie Bochert and Magdalena Frackowiak are in the new Jimmy Choo campaign. [DFR]
---
Here's that Lindsay Lohan campaign for random German designer Philipp Plein you didn't ask for. [Fashionista]
---
This could be three leaked mock covers of the proposed Kardashian magazine (hold us), or, more likely, it seems to be a random pitch. [Fashionista]
---
Some good news today for American Apparel: the Securities and Exchange Commission has completed its multi-pronged investigations into the troubled company, and is not recommending any enforcement action. For 18 months, the SEC has been looking into the circumstances of the abrupt resignation of American Apparel's former auditing firm, Deloitte & Touche, as well as the company's "financial reporting and internal controls." Many observers in the financial sector were concerned that Deloitte's departure, which caused American Apparel to have to re-audit over a year's worth of previously certified results, may have signified deeper problems at the company, and the stock price tanked. (Right now it's trading at 96¢, up about 1¢ since the opening.) Eight months ago, the SEC announced it had also subpoenaed documents relating to the company's accounting of foreign currency transactions. [WWD]

Suvi Koponen and male model Tyler Riggs are getting married. [Fashin]

Molly Sims is pregnant with her first child. She told her husband in a fortune cookie. [NYDN]

When asked if she shops in SoHo, Anna Wintour laughed. "I never go shopping," corrected the Vogue editor. [The Cut]

The C.E.O. of Macy's and the president of the National Retail Federation wrote to President Obama. They would like a lower corporate tax rate, please. [WWD]

People are buying Crocs again. The company, which had been facing bankruptcy due to retail over-expansion and declining sales thanks to knock-offs of its signature product, announced that for the first time, it expects this year's gross sales to top $1 billion. [Telegraph]

The Italian consumer protection agency has raised concerns about Tod's proposed sponsorship of restoration to the Colosseum, but the company is giving public assurances that it's not interested in having any company advertising on the monument during the restoration. Tod's is offering €25 million for the project. [WWD]

The Limited is scotching the bridal line it added in 2010. That means 15 remaining wedding dress styles are on sale for under $100. [Racked]

Christian Louboutin, who once interned at the famous burlesque club les Folies Bergère and learned that the dancers used slices of raw veal in their shoes to keep their feet from blistering, is now designing four new "tableaux" for the Crazy Horse in Paris. [WWD]

Ian Gerard talks frankly about the bankruptcy and relaunch of Gen Art, the fashion and entertainment nonprofit that launched the careers of designers including Zac Posen, Phillip Lim, and Rebecca Taylor. [Exposed Zippers]

And now, a moment with legendary photographer David Bailey. David, why did you cancel your shoot with Lady Gaga?

"There were too many rumours about her storming out and being silly. And I can't be bothered. If she can sing, why wear funny clothes? Ella Fitzgerald never wore funny clothes."

And one more moment, because why not! David, what do you think of Prince Harry, whom you recently shot for the cover of British GQ?

"He's all right. Nice guy. He's more dashing than his old man isn't he?" Bailey thinks that Harry is no different from a normal bloke walking down the street. "And that's paying him a compliment. Because he's not a retard. He's not inbred."