Rick—thank you.
Here's all the shit we couldn't cover today:
Secretary of Energy Rick Perry, whose brain has unfortunately not grown more functional since he began wearing that sassy pair of glasses, has agreed with EPA administrator Scott Pruitt that carbon dioxide is not the primary factor that determines the Earth's climate. "No, most likely the primary control knob is the ocean waters and this environment that we live in," he said, contradicting the work of NASA, NOAA, the (former) EPA, and the IPCC. Perry added rather incoherently that "the fact is this shouldn't be a debate about, 'Is the climate changing, is man having an effect on it?' Yeah, we are. The question should be just how much, and what are the policy changes that we need to make to effect that?" I'm going to guess Rick's answer to that question is "who cares" and "none, lol." According to Shaye Wolf, climate science director at the Center for Biological Diversity, "Perry has the science exactly backward. Far from being climate change's key cause, the world's oceans are actually another victim of greenhouse pollution." [Washington Post]

Sean Spicer is reportedly searching for candidates to take over the White House press briefings. Candidates are reported to include Fox News' Laura Ingraham, indicating that we may soon yearn for the days of Spicey Time. [Politico]
Today's off-camera, no-audio briefing, however, infuriated reporters who are dealing with a White House which is increasingly reluctant to answer literally any questions at all. CNN's Jim Acosta said that "the White House press secretary is getting to a point where he's just kind of useless," and tweeted: "There is a suppression of information going on at this WH that would not be tolerated at a city council mtg or press conf with a state gov." [The Hill]
Today, the president met with the president of Panama, a country about which he knows exactly one 103-year-old fact. "We have many things to discuss. We're going to spend quite a bit of time today," Trump said. "The Panama Canal is doing quite well, I think we did a good job building it." [Politico]
"I think the [Virginia] shooting is going to win this election for us," Brad Carver, the GOP chairman in Georgia's 11th District, declared regarding tomorrow's historically expensive 6th District race. "Because moderates and independents in this district are tired of left-wing extremism." [Washington Post]
The Supreme Court ruled that rejecting "disparaging" or offensive trademark names violates the First Amendment. [Washington Post]
Welp, Jared Kushner is off to solve the Israeli-Palestinian conflict. Byeeee! [NBC News]
Here are some tweets the president was allowed to publish:
G/O Media may get a commission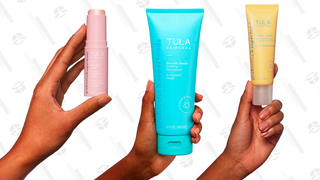 This has been Barf Bag.