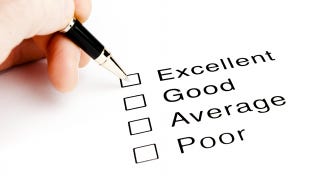 Into the ongoing debate of "how to address childhood obesity" comes a new angle: reporting BMI along with grades on report cards.
The measure — increasingly popular in America and now implemented unilaterally in Malaysia — is designed to address parental ignorance about health and fitness: as the Huffington Post explains, "a 2010 survey from Trust for America's Health found that 84 percent of parents believe their children are at a healthy weight, even though almost one third of kids are actually overweight or obese." Along with the BMI, parents received tips on healthy eating and exercise.
Will it help? Well, as far as schools are concerned, it can't hurt — and in concert with the first lady's childhood obesity initiative, school districts are increasingly ready to try anything. If they need more ideas, Slate recently crowdsourced reader ideas for combatting the problem. What's becoming clear is that nothing short of a seismic shift in how we think about food, exercise and health is needed — and while I don't love the idea of mandatory weigh-ins being part of any student's curriculum, I'm at least glad schools are trying.
More Schools Including Weight, BMI On Report Cards [Huffington Post]