After a student newspaper published a feature on rape culture, district officials in Fond du Lac, Wisconsin have set new rules governing the subject matter that appears in the publication.
Through Fon de Lac High School Prinicpal Jon Wiltzius the district will now determine what stories and issues the students can write about. The issue began over an article published in Cardinal Columns, the school's student-run newspaper. The article by Tanvi Kumar was titled "The Rape Joke: Surviving Rape in a Culture That Won't Let You," and featured a discussion on rape culture. You can see the story here (it's quite powerful and well worth a read). Here's what the article entailed, according to Raw Story:
The story begins with an account of an anonymous student, "Sarah," who stayed silent about her rape because she "didn't know it was rape because there weren't and drugs, and we weren't at a party." Despite having told her attacker "no" numerous times, her friends convinced her that sex had been consensual.
It recounts similar stories from other students — including one about a girl who had been molested by an uncle who is will be released from prison shortly — that demonstrate the way in which rape culture causes victims of rape and sexual abuse to blame themselves for the actions of their attackers.
The school district apparently balked at the idea of this kind of subject matter being in a high school paper and stepped in with the new rules for publication.

"The newspaper, Cardinal Columns, is a publication of Fond du Lac High School so there is the ability for the principal or the advisor or the superintendent to oversee any of these publications," Wiltzius said to news station WBAY.
G/O Media may get a commission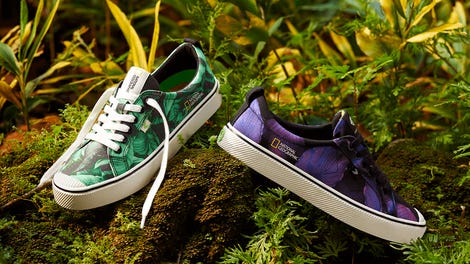 New New New
Cariuma + National Geographic
Students are outraged at the district's censorship. Austin Klewicki, a student who works on the Cardinal Columns paper, said "[The] article, it came out to help people and now we're being told it shouldn't go. I think that's a little ridiculous, especially when we had worse stories in the past in issues that we were told were good. So I think it's surprising that this has been blown out of proportion and it should be returned back to where it was where we had the freedom to choose what we wanted to write."
While the district is standing by their decision, many are calling the move outright censorship. According to WBAY, there is mounting pushback from the public. The Kettle Morraine Press Association, an organization which supports student journalism, has already reached out to the district and asked them to reconsider the move.
Support is still growing for students behind the latest edition of Cardinal Columns, the Fond du Lac High School student newspaper. After the student reporters and editors focused part of the issue on the culture of rape, the school district imposed new guidelines giving the principal and superintendent final say in what goes in the paper. More than 2,000 people signed an online petition in support of the students.
"I don't think that when this all started we expected to get as much support as we did, but we are so so so thankful," said Kumar a senior at Fond du Lac High School and Editor-in-Chief of Cardinal Columns. "Though Mr. Wiltzius is an extremely intelligent man he is not a journalism expert, so ultimately it is someone who is not an expert in journalism who is deciding what gets included in our paper."
By the way, it's worth noting that while the Supreme Court ruled in 1988 that public schools have the right to censor student papers, some courts have already shown support for the idea that students in public schools have a right to free speech, despite what the officials in charge might believe.
Image via Shutterstock.