Law & Order: Special Victims Unit focuses on Manhattan-based "sexually based offenses [that] are considered especially heinous," and with its 16th season beginning Wednesday night, it is the longest-running spinoff of the original Law & Order, and the only one (of five) left in production. From its 1999 debut, it was more willing to get up-close and personal with its victims—its first episode, "Payback," opened with a cabbie who had been murdered and had his genitals removed—than its parent show, a deeper focus that extended to the principals. Detective Olivia Benson (played by the steely-yet-maternal Mariska Hargitay, the sole original cast member to still be on the show) felt empathy toward the cabbie's killers on that episode; he had sexually assaulted them, and Benson, the audience quickly learns, was a child of rape. Over the course of that season—and those that followed—the crimes that come in to her squad will have at least a glimmer of personal resonance.
After the 2011 cancellation of Law & Order's short-lived Los Angeles spinoff, SVU became the only spinoff producing first-run episodes. The show's resilience both is and isn't surprising. At its outset, the original Law & Order was a very male show; the first women in the main cast didn't show up until Season 3, when Jill Hennessy's Claire Kincaid and S. Epatha Merkerson's Anita Van Buren were brought on board. The no-nonsense feel of that series' earliest episodes in particular reflected that male domination; work was the focus, sometimes at the expense of everything else. Over time, more peeks into characters' personal lives occurred, but with few exceptions they were secondary to the week's case. (Even the way Elisabeth Röhm's Serena Southerlyn notoriously signed off the show—by declaring, out of nowhere, "Is it because I'm a lesbian?"—reflected the split between the courtroom and the bedroom.)
SVU, meanwhile, has both had women at its center and been about the intersection of its characters' work and personal lives since episode one; even Richard Belzer's imported-from-Homicide John Munch had his ex-wives figure into a couple of cases. In a way, the show's core appeal is similar to that of old TV movies like The Burning Bed and Something About Amelia—melodramas where women and children are often placed in peril. (The headlines that float on the screen during the show's opening credits include "rape" and "molestation" in big letters.) Crucially, too, the victims often don't die the way the bodies on the homicide-focused mothership did; police procedure demands that those victims relive the traumas that brought them back to the Special Victims Unit in the first place, whether through lineups or court testimony.
The detectives and lawyers have all seen their share of travails over time, particularly Benson, whose mother's rape constantly haunts her, and who's also endured a slew of traumas—an alcoholic mother, sexual assault, being shot and slashed, a codependent relationship with her partner Eliot Stabler, a slew of crappy boyfriends—in addition to the day-to-day stress of seeing humanity's worst impulses made flesh. During the 15th season, a couple of cast changes left Benson as the last original SVU-er standing, and it was here that the appeal of the show—now a police procedural with an unbelievably strong woman at its core—became curious. Over a multi-episode arc, Benson was abducted and tortured by the murderer/rapist William Lewis (played chillingly by Orange Is The New Black's Pablo Schreiber). A jury acquits him of attempted rape even though he's found guilty of kidnapping and assault; he later breaks out of prison and forces Benson into a game of Russian roulette. The episodes eventually turned into an endurance test not just for Benson, but for the audience—How much more can she take? How much more can we take?—and the fact that they came during the same season as her eventual promotion to sergeant seemed not accidental.
G/O Media may get a commission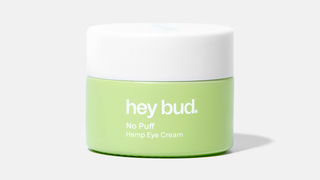 15% off
Hey Bud - No Puff Hemp Eye Cream
Watching SVU even in reruns (which are on often, thanks to USA's need to fill its daytime hours) has become a uniquely uncomfortable experience to me, in part because of what the times now allow on prime-time TV. Where original-recipe Law & Order would cloak the particulars of its sexually based offenses in metaphor, so as not to upset NBC's standards & practices department, SVU increasingly embraced the idea of delving into precise details. Its weekly biology lessons seeming even more "educational" when one of the ancillary characters, like B.D. Wong's buttoned-up FBI profiler George Huang or Tamara Tunie's clipped medical examiner Melinda Warner, would spout off a relevant statistic. The balance between being horrified by the crimes depicted on screen and wanting justice becomes skewed by the show's desire to let the audience know just how gross those offenses were. SVU's commitment to keeping up with the high-tech crime gadgetry deployed by CSI and NCIS, and their spinoffs, only adds to its lurid nature.
The weight of the show's constant trawling for ever-more-shocking plots, combined with Benson's 15th-season travails, made me wary of starting in again with SVU. A few changes are afoot; the main cast has been slimmed down to five members, and Benson's installation as sergeant is complete. More importantly, though, she has a baby—a foster child born to a Season 15 victim. The plot is apparently about the busting of a prostitution ring that killed Olivia's baby's mother, but the show's social-media promotion, which can at times be zealous to the point of making its already-lurid aspects seem almost pornographic, has been beating a single drum: #SaveBabyBenson, the hashtag goes, alongside tweets about Benson being a "Mama Bear." (Her recent promotion to head of the SVU squad apparently doesn't translate as well to 140-character bursts.) If Benson having it all a la her schedule-mate Laura Diamond—with the caveat that in her case, "it all" is a sum total of day-to-day trauma that would send even the most resilient human to bed for months at a time—is what it takes to keep SVU on the schedule, perhaps it's time to finally put Dick Wolf's New York into the history books.
Maura Johnston lives in Boston, where she teaches at Boston College and edits the culture periodical Maura Magazine. She also spins records at WZBC and writes for the Boston Globe and Rolling Stone. She's on Twitter @maura.
Image via Michael Parmelee/NBC.