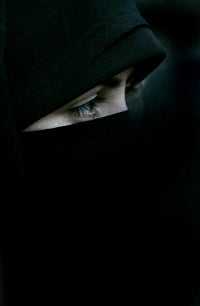 The Saudi government is defending its Supreme Judicial Council's decision to sentence a gang-raped woman to 200 lashes and six months in prison. The woman was sentenced because she was riding in a car with a man she wasn't related to, not because she was raped. Now, the lawyer is representing the woman and speaking out against her sentence, is facing a possible disbarment by the government for his actions on her behalf. "From now on people will be apprehensive to appeal fearing they might be punished or have their sentences doubled," Abdul-Rahman al-Lahem said. "That's exactly what's happened to the rape victim, who only wanted justice."
The raped woman's husband recently spoke to CNN about the verdict on the condition of anonymity. " "From the outset, my wife was dealt with as a guilty person who committed a crime...She was not given any chance to prove her innocence or describe how she was a victim of multiple brutal rapes." The husband also said his wife has been suffering from severe depression. "You could say she's a crushed human being."
Hillary Clinton has called upon the Bush Administration to publicly condemn the Saudi government for its treatment of the woman. "It's an outrage," Clinton said. " "I urge President Bush to call on King Abdullah to cancel the ruling and drop all charges against this woman." The official Saudi news agency released the following statement: "The Ministry of Justice welcomes constructive criticism ... The system allows appeals without resort to the media." They also added that the woman "contently accepted" the verdict.
Saudi defends verdict against gang-rape victim [Reuters]
Saudis Say Punishment of Rape Victim Justified[CNSNews.com]
Clinton: Saudi rape verdict 'an outrage'[CNN]
Earlier: Horrors