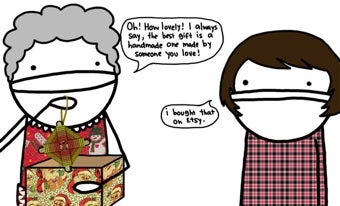 Once again, it's time for our Saturday Night Social. Whether you're getting ready for the big storm, celebrating the holidays, recovering from last minute present-runs, or just settling in for the night, this is the thread for you.
Don't forget: we'll be having our SNL live thread tonight, so come back and join us, won't you? Until then, let's keep things light and so on and so forth. Here's a song to get you started:





Thank you for reading and commenting today, have a safe and happy Saturday night, and I'll see you in the morning (or at the live thread!).
[Image via Natalie Dee.]