Dear Writers and Actors of Saturday Night Live: That China Cold Open? Apart from the fact that it was painfully unfunny, it was marked by straight-up racism from start to finish.
Let's leave aside for the moment that no one could be bothered to find an Asian-American comedian to stand in for this sketch, because by the time the segment ends, that is the least of our worries. China Cold Open is just made of fail:
Angry Asian Man explains:
You've got a very Caucasian Will Forte as Chinese President Hu Jintao, doing some seriously godawful ching chong, alongside Nasim Pedrad, rocking an equally ass-awful accent as his "translator."

This alone is pretty painful. Whatever joke they're going for is completely sabotaged by the fact that everyone is thinking, "Hey, those two aren't Asian." (At least they didn't tape their eyes back.) But it goes on, with this tired, drawn-out joke about "do sex to me" and Hu literally bending over in front of "Obama."
I don't understand how this kind of racial mockery flies on national broadcast television. Is this not yellowface? No, they didn't use "Oriental" makeup, but there's no denying that the effect is there — insulting ching chong and all.
G/O Media may get a commission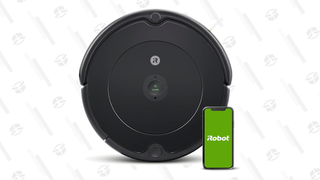 35% Off Black Friday Deal
iRobot Roomba 694 Robot Vacuum
Combine that effect with Fred Armisen's already contentious Barack Obama impersonation and we have some major issues around race, representation and comedy.
Kate Rigg, a comedian herself and someone you may want to add to your predominantly white and male writers room, sums it best when she says:
I'm offended when I see comics get onstage going "…and then I went to the Laundromat. Ching-chong, ching-chong, ching-chong!" Then I'm fucking offended. When someone tells a joke about Asian people and there's no actual joke – the joke is the Asian people. The joke is [racist-comic voice] the funny way they talkie-talkie! "They don't use proper diction! Only verb and noun! Verb and noun!" I just heard a comic that I respect doing that fucking joke the other night. An Asian comic. And I was like, "Dude! Write a punch line or you're just being racist!"
Jokes about racial differences don't work if you are actually being racist. And this sketch, with a screaming, irrational Hu hollering "do sex to me" sits squarely in that camp.
Giving you the one finger salute,
Latoya
China Cold Open [SNL/Hulu]
Yellowface Ching Chong Nonsense On Saturday Night Live [Angry Asian Man]
Related: Did 'SNL' Go Beyond the Pale With Fauxbama? [Washington Post]
Quoted: Kate Rigg On Racism And Comedy [Racialicious]