In an interview with Vanity Fair yesterday, Sarah Silverman discussed taking a brief respite from dick jokes to voice a character in the upcoming Disney movie Wreck-It Ralph and her varied career as a blue comedian,
I... have the luxury of not having to do anything that I don't want to do. I don't have to play the angry girlfriend who tells her boyfriend, "You have to get your life together!" So often, that's the role for a comedic woman in a movie. Hopefully, not in this post–Kristen Wiig era, though. I think she's so cool.
Point 1: Clearly a Knocked Up reference.
Point 2: Maybe Kristen Wiig will read it and call Sarah Silverman and then they'll hang out and become best friends. Fingers crossed!
Later, the documentary Joan Rivers: A Piece of Work is brought up:
Brilliant and so heartbreaking. I love her so much. I wish she could feel some of her success and feel some of that happiness. And she is a happy woman, but to see the discontent and the frustration. She is right about a lot of things, though, like when she said, "Don Rickles does the same material and I do the same stuff every week. And he's the genius?" . . . And I love Don Rickles, but the exciting thing is that she is more vital than she has ever been.
And finally, the latest joke that Silverman's proud of writing:
Well, I was saving it for the Republican National Convention. I wanted to say that during that week, we should hold a vigil or ask for a moment of silence for the literally billions of tiny Republicans who will be lost in hookers' assholes that week. I told it to my dad and he said, "You mean vaginas!" And I said, "No, Daddy. Because they don't want to get [the women] pregnant, and they don't want to wear condoms." And he was like, "Oh, you're right." It was such a messed-up conversation.
G/O Media may get a commission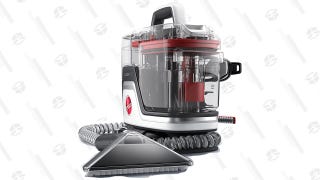 Save $10
Hoover CleanSlate Plus Carpet & Upholstery Cleaner
Incidentally, this might be the only instance in history where explaining a joke makes it even funnier.
['Sarah Silverman on Wreck-It Ralph, Comedy's Double Standards, and the Dirty Joke She Wrote for the Republican National Convention' [Vanity Fair]