On last night's show, Sarah Palin and her husband Todd made a taped appearance when they watched Bristol's rehearsal for her "scandalous" tango. Sarah was concerned it would be "lap-dance scandalous," which it sorta was, since it involved a chair.



And here is the performance version of the dance, in which Mark Ballas reached his hand up her dress and caressed her butt cheek. While Todd and two of Bristol's sisters were in the studio audience, Sarah sat this one out.




Later, the five remaining groups had to do something called an "instant dance" by pulling a random song out of a disco ball and having only a few minutes backstage to rehearse. Bristol and Mark's "instant dance" was the samba, which involved a lot of shimmying.




A lot.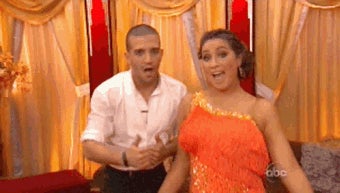 Still, though, they came out of the competition last night with the lowest combined scores.