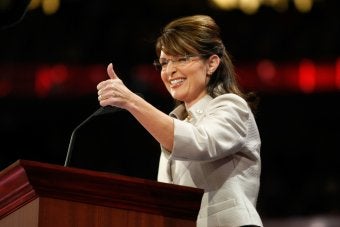 In one more horrifying indication that she intends to run for President in 2012, Sarah Palin gave a 90-minute speech today to a group of bankers and investors in Hong Kong at a conference hosted by CLSA Asia-Pacific Markets.
Because the speech was closed to reporters, second-hand commentary is the order of the day.
While she's thought to be considering a bid for the GOP presidential nomination in 2012, her Hong Kong trip bore no political overtones, said Fred Malek, a friend and Palin adviser.

"You can read a lot of things into it, 'Is she trying to burnish her foreign policy credentials?' and the like. But really, it's a trip that will be beneficial to her knowledge base and will defray some legal and other bills that she has," Malek said.
The New York Times:
"The speech was wide-ranging, very balanced, and she beat all expectations," said Doug A. Coulter, head of private equity in the Asia-Pacific region for LGT Capital Partners.

"She didn't sound at all like a far-right-wing conservative. She seemed to be positioning herself as a libertarian or a small-c conservative," he said, adding that she mentioned both Ronald Reagan and Margaret Thatcher. "She brought up both those names."
The Times adds that Palin "did not repeat her attack from last month that the Obama administration's health care proposals would create a 'death panel' that would allow federal bureaucrats to decide who is 'worthy of health care,'" but other sources beg to differ.
The Wall Street Journal (which sure sounds like the paper got either a reporter in there or a copy of the speech, judging by the number of direct quotes):
On health care, Mr. Palin [sic] defended her previous criticisms that the health-care overhaul proposed by Democrats would lead to health-care rationing and what she called "death panels." "It's just common sense that government attempts to solve problems like health care problem will just create new problems." She called for "market friendly" health care reform that gives tax breaks to individuals to buy health insurance....

On U.S.-China trade relations, Mrs. Palin called for more openness and warned against protectionism. "We need China to improve the rule of law, improve intellectual property protection and avoid protectionism," she said. "For our part, we should be more open to Chinese investments where national security risks aren't a problem."
As an aside, I can't decide if that "Mr. Palin" is my favorite typo in the WSJ article, or if this one is:

Finally, AFP's got the best dirt, mostly from anonymous American delegates, two of whom "left early, with one saying 'it was awful, we couldn't stand it any longer.'
"It was fairly right-wing populist stuff,' one US delegate said.

Palin blasted Obama's proposals on healthcare, reiterating a previous statement made to the press that the plan would include a bureaucratic "death panel" that would decide who gets assistance, he said.

Another from the United States said: "She frightens me because she strikes a chord with a certain segment of the population and I don't like it."
You and me both, anonymous U.S. delegate.
According to Politico, Palin was prepared for the speech by John McCain's campaign foreign policy advisor, Randy Scheunemann, and according to Breitbart, "There were no apparent gaffes." Which might explain why both The Times and the AP take this opportunity to remind us of the "you can actually see Russia from land here in Alaska" remark. That one's still the best, but the WSJ also reports that she attempted to butter up Asian investors by talking about the land bridge that once connected North America and Asia — Todd's ancestors crossed it! We're practically cousins! Or something.
Rumor has it Palin was paid $300,000 for the speech, which she was invited to give "because she's a woman of news value and presents an opinion that we feel would be of value to our fund managers," CLSA spokesperson Simone Wheeler told the AP. No word on how strongly Wheeler emphasized the first part.
Palin emerges in Asia with speech to investors [AP]
Palin Speaks to Investors in Hong Kong [NYT]
Palin Addresses Asian Investors [WSJ]
Palin slams Obama's spending in debut speech in Asia [Breitbart]
Scheunemann advising Palin for 'wide-ranging' Hong Kong talk [Politico]