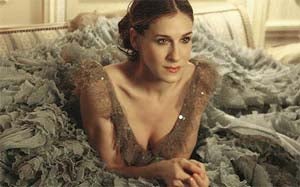 Almost a decade after Patricia Field made her into a style icon to millions of young women, Sarah Jessica Parker is continuing to torture the innocents of America with her, em, "contributions" to the fashion and beauty industries. Parker, having already slapped her name on a fragrance for Coty and an apparel line for retailer Steve & Barry's, is coming out with a new scent called Covet that will be available beginning in July. And she's got a charming new TV ad to go along with it!
A TV commercial, shot by Jean-Paul Goude in the Place Vendôme in Paris, depicts Parker bashing in a window with a stiletto, attempting to get to a factice of her fragrance. Before she can spritz even a drop, however, the gendarmes have the brass handcuffs on our heroine, and she's off to a jail cell. Clad in a couture Christian Lacroix ballgown, however, she's clearly the best-dressed woman on the prison block.
Window-shopping in Paris? Stilettos? Couture ballgowns? Sounds a lot like a scene from the series finale of a certain hit HBO series. Not that we'd ever accuse Sarah Jessica of being derivative or anything!
(Image via HBO)
Beauty Beat: Sarah Jessica's Second Scent {WWD]