Beat this for a lede: "Newly minted Gov. Cuomo spent the night in his parents' old bedroom with First Girlfriend Sandra Lee and the power couple's newest "baby" — a 2-month-old cockatoo." Oh yes, the era of Lee has begun!
The bird — which sports a cloth diaper — will either be named Journey, Hudson, Madison or Phoenix. Lee is also a major dog person. In interviews — both the one from today's Post and an in-depth sit-down with Redbook — she comes across as a weird mixture of down-to-earth and steely and, well, wacky. In other words, what you see on Semi-Homemade is kind of what you get: the kind of person who becomes a mogul from tablescapes.
Because she and Governor Andrew Cuomo are not married, Lee says she doesn't get a security detail (she pays for her own) and when she promotes her chosen cause — providing affordable food to New Yorkers in need — she'll not be using tax-dollars, either. Talking about her bf, she's naturally on-message, telling Redbook:
He is the most amazing person I've ever met in every way. He is the most selfless, good-hearted, thoughtful person, engaged on every level with everyone. He's a real inspiration.
How her dual high-profile lives will play out is still a fascinating open question. Although she's taking up official causes — and was after all, holding the Bible at the inauguration — she's also launched the terrifying-sounding Sandra Lee Semi-Homemade magazine, which she describes ominously as "a creative wonderland...There are so many ideas I want to show and share" and, confusingly, as "attainable, affordable, and aspirational."
While we haven't heard anything about the inaugural menu — we can only hope it resembled this — we remain hopeful. And intrigued. Say what you will about Sandra Lee's culinary acumen, the woman's a force of nature and an independent mogul who shows no sign of slowing down for the demands of traditional First Ladyhood. Their unmarried status also represents a paradigm shift — and that it hasn't raised any eyebrows (not like it should with a state in crisis, but still) is itself reassuring and a sign of the times.
G/O Media may get a commission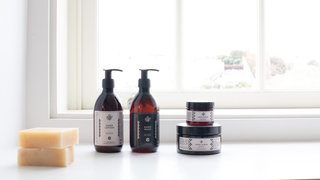 Exfoliate and Hydrate
The Handmade Soap Company
Sandra Lee's Semi-Homemade Life [Redbook]
Cuomo's Gal Talks About Life As The Governor's [NYPost]