Here's a safer way to get your porn fix at work without getting fired: Audio porn.
Playboy explores this relatively new phenomenon (which is porn without the video portion) in their feature, "Talk Dirty to Me: Deep Inside The Intimately Sexy World of Audio Porn." It makes sense that its popularity would coincide with the rise of podcasts, which includes our unhealthy obsession with Serial. The article opens with this sexy description of the audio porn experience:
I hear a faint cough in the distance, then another. "Oh, but I don't care," he continues. "I just want to fuck you." He shudders, and moans right in my ear. "You're such a good girl, and you get what good girls deserve: a big load of my cum."
Let your imagination run wild. Writer Nona Willis Aronowitz then goes on a mission to find out more about audio porn, which starts with Googling "audio porn." She writes:
Quickly I realized that, as with conventional porn, there was a seemingly inexhaustible audio-porn archive on the internet: everything from humorous fantasies about dildo genies to Audible.com's erotic e-books to Tumblrs vibrating with orgasms rubbed out in office bathrooms to Reddit's endless selection of "faps" and "schlicks" (the onomatopoetic names for male and female masturbation sessions). Sometimes these files are customized for the listener, but even when they're not, the intimacy of audio makes it feel like they are.
G/O Media may get a commission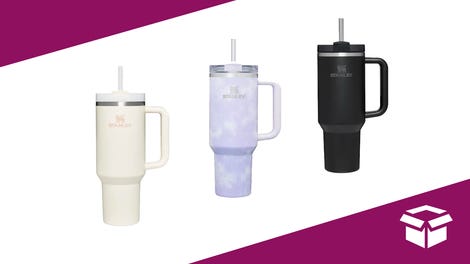 Up to 45% off
Stanley Cup Sale
In other words, the actors involved are virtually speaking to you. Examples: "Please, baby, make me come"; "That was amazing"; "I hope it was good for you, too." Aronowitz found the experience satisfying because she "was participating, not just staring." She goes on:
Audio magnifies whispers and swallows, humanizing the performer and creating a tangible experience that photography and video can't compete with. "We feel like we are right there in the room with the action," says Northwestern University media professor Jacob Smith. "A voice comes from within a person and resonates with their whole body."

That immersive intimacy makes audio a particularly fruitful platform for porn performers and consumers, who can take full control of a fantasy.
Try it for yourself:
Surprisingly intense, right? You're not alone. After five months of listening, Aronowitz says she's still "flustered by its realism," and found her friends who agreed to partake were similarly ruffled:
I'm still flustered by its realism in a way that I haven't been by hardcore vids since middle school. I'm not the only one. As I shared my favorite recordings with friends, no one reacted as enthusiastically as Raven, but several were so overwhelmed that they stopped listening mid-track. My most promiscuous friend told me he was "scandalized," while many more told me it was "intense" or "too much" or, most revealing, "too real."

It was the first time I'd heard that critique leveled at porn, which is usually called "bad" because it seems fake.
Her full audio porn piece is here if you care to go deeper.
Image via Shutterstock