The hopes of hundreds (maybe billions) of Tinder users at Austin's South by Southwest Festival were shattered when they were duped into thinking a "woman" on the app was "real." In reality, "Ava" is a marketing scheme cooked up by the creators of the sci-fi movie Ex Machina. The fake profile included a photo of a 25-year-old woman, with a bio link that directed users to the film's web site (this probably should've tipped people off).
Other companies have used Tinder as a promotional tool to jerk with people's feelings, but these Ex Machina people took it a step further by having their bot send messages. Ad Week reports, of one user's experience:
...When he opened up Ava's Instagram, it became clear something was amiss. There was one photo and one video, both promoting Ex Machina, a sci-fi film that just happened to be premiering Saturday night here in Austin... And it turns out the woman in the photos is Swedish actress Alicia Vikander, who plays an artificial intelligence in the movie.
The dude fooled by this marketing scheme says it "toyed with my emotions so hard." Which is no different from how Tinder works on any other given day.
A sample of the messages, below.
G/O Media may get a commission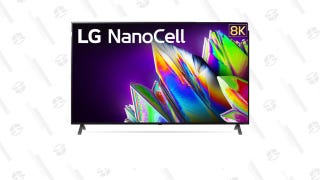 LG 75-Inch 8K TV
Images via Ad Week
---
Contact the author at clover@jezebel.com.