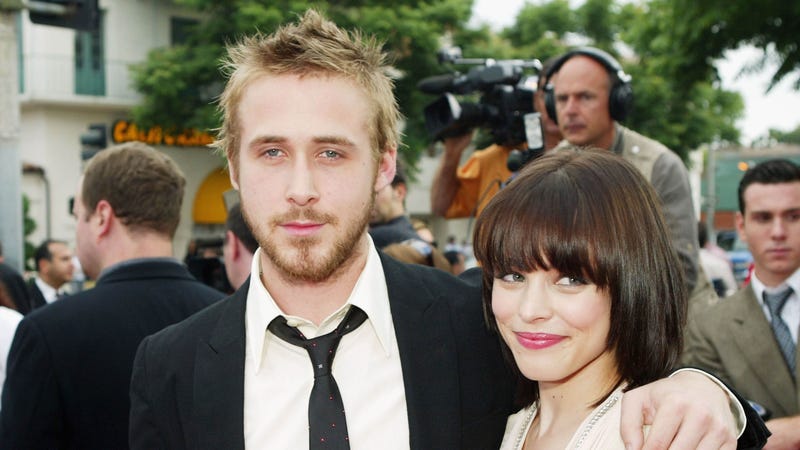 In a new interview, Notebook director Nick Cassavetes revealed that Ryan Gosling and Rachel McAdams's relationship during filming wasn't quite as cozy as their characters (or their later 2-year romance). In fact, they fucking hated each other, to the point where Gosling once asked for McAdams to be removed from the set.
Maybe I'm not supposed to tell this story, but they were really not getting along one day on set. Really not. And Ryan came to me, and there's 150 people standing in this big scene, and he says, "Nick come here." And he's doing a scene with Rachel and he says, "Would you take her out of here and bring in another actress to read off camera with me?" I said, "What?" He says, "I can't. I can't do it with her. I'm just not getting anything from this."
Then:
We went into a room with a producer; they started screaming and yelling at each other. I walked out. At that point I was smoking cigarettes. I smoked a cigarette and everybody came out like, "All right let's do this." And it got better after that, you know? They had it out… I think Ryan respected her for standing up for her character and Rachel was happy to get that out in the open. The rest of the film wasn't smooth sailing, but it was smoother sailing.
Yes. Thank god you were able to complete this masterpiece. [VH1]
---
A man with a knife showed up at ABC studios today and threatened to kill Michael Strahan.
Andre Johnson appeared Tuesday AM at the Times Square studio where "Good Morning America" is shot. The 25-year-old man showed up at around 8:00 AM ... when the cast often walks out onto the sidewalk set to interact with onlookers.

Police say Johnson got into an argument with security, pulled a knife and said he was there to kill Strahan — who makes appearances on "GMA" in addition to hosting "LIVE! With Kelly and Michael."

A cop working security then subdued Johnson and secured the knife.
STAY SAFE, STRAHAN. [TMZ]
---
Images via Getty.