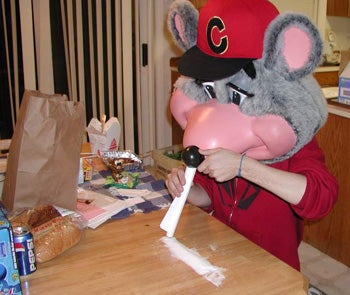 Star Magazine reveals the identity behind 'LR', the person a mildly deranged Lindsay is threatening to take to court in her latest coke-fuelled magnus opus.
"So who is this villian? It's Lindsay Ratowsky, Lindsay's former personal assistant who used to work for Lindsay earlier this year but Lindsay let her go, because she felt she did not respect Lindsay's privacy. 'Lindsay thought she had a big mouth, and was talking to the press about Lindsay,' a source close to Lindsay tells Star. 'Lindsay thought she was very hurtful to Lindsay since she and her were friends.'"
Ratowsky, who now works for nubile but non crotch-flashing Jessica Biel, was also the target of Lohan's ire last week at a GQ party last week.
While the sight of these two slugging it out in court over who said what about whose vagina/drug habit/std(s) is something we would actually sacrifice a limb to see, we suspect it will never get that far, as Lohan has a pressing appointment with rehab, right around, oooh, tomorrow.
Oh, and Lindsay hon, this from cocaineaddiction.com:
"Taking the drug in repeatedly high doses and at an increasingly high rate will lead to an increase in irritability, restlessness, and paranoia. This action, known as bingeing, may also result in a full-blown paranoid psychosis to the point of an individual losing touch with reality."
We're just saying, girl.