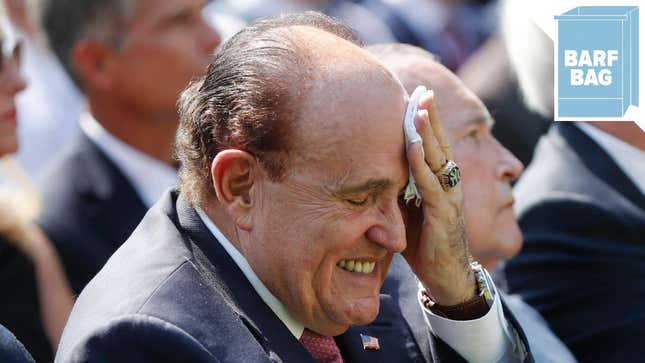 C-R-Y-D-A-Y.

Here's all the shit we couldn't cover today:
The president routinely humiliates Rudy Giuliani:
Mr. Trump also berated Mr. Giuliani in front of others at the wedding of Treasury Secretary Steven Mnuchin in 2017. The president complained that Mr. Giuliani was spitting while he was talking and ordered him to stand elsewhere, the aide said.

After the release of the "Access Hollywood" tape weeks before the election in which Mr. Trump was captured making lewd comments about women, few advisers were willing to go on the Sunday talk shows to defend the candidate. Mr. Giuliani taped all five shows—after which Mr. Trump attacked him for his performance. "Man, Rudy, you sucked. You were weak. Low energy," the candidate told him, according to a book by two former campaign aides, Corey Lewandowski and David Bossie.
But it's okay because he doesn't mind! "Mr. Giuliani rarely complained about such treatment, jockeying with other aides and advisers to sit next to Mr. Trump at dinner or on the plane. 'Rudy never wanted to be left out,' one former aide said." [Wall Street Journal]

Bernie Sanders is having a nice time fundraising from small donors. [New York Times]
Mark Zuckerberg is scared of Elizabeth Warren's proposal to break up Facebook and other tech monopolies. Does that fear drive him to piss his pants and cry out for his mother? No one can say for sure. [Verge]
I think of marriages between powerful people (all marriages?) as more transactional than romantic so I am not sure I am the intended audience for Hillary Clinton's comment that staying in her relationship with Bill Clinton was among the "gutsiest" things she's ever done. [Politico]
Secretary of State Mike Pompeo was on the crime call. [Wall Street Journal]
More people are coming around to impeachment. [Reuters]
Reasonable warning, I guess:
Here are some tweets the president was allowed to publish:
G/O Media may get a commission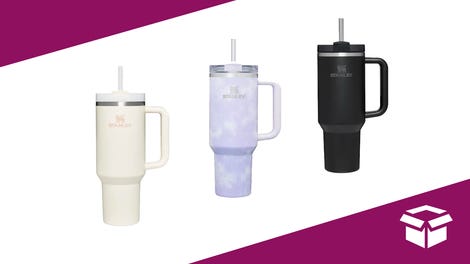 Up to 45% off
Stanley Cup Sale
This has been Barf Bag.