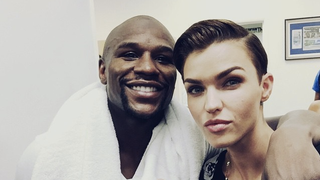 The world loves Ruby Rose a little bit less now after the Orange Is the New Black actress posted this photo of herself with domestic abuser Floyd Mayweather on Instagram with the caption "the champ!!!"
The Mayweather connection isn't much of a surprise, since Rose happens to be friends with Justin Bieber, who's friends with Mayweather.

Many of the comments under the photo look something like this:
"WTF?!?! Do you even know what a massive dickhead this guy is! Sad...."

"Supporting a woman beater? Shit move"

"So random... You do realize he is a homophobe and misogynist/wife beater?"

"He's no champ. He beats women. You're no better than him now"
Not a great example of Squad Goals.
---
Contact the author at clover@jezebel.com.
Image via Instagram