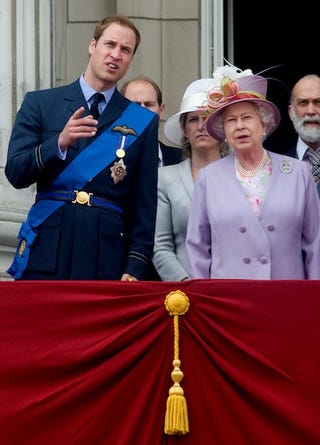 We thought the most morbid aspect of the royal wedding was the press constantly comparing Kate to William's dead mother, but things just got creepier. This month palace officials are planning to stage a rehearsal for the Queen's funeral, which will involve parading her coffin from Buckingham Palace to Westminster Hall. A royal aide says:
"Obviously we all hope such a sad event will be a long way off — HM may be 84 but she's in very good health — yet we need to rehearse the logistics and timings for what will be a huge ceremony ... It may seem odd to think about his grandmother's demise at the same time as William's wedding but having all these diplomats and VIPs in London on April 29 makes it sensible to run through the procedures and things like seating plans."
To make this story even worse, the caption under a photo of Prince William and his grandmother reads, "Prince William may sometimes contemplate the Queen's funeral himself."
Prince William And Kate Middleton's Wedding A Rehearsal for Queen's Funeral [News.com.au]