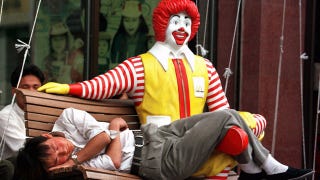 This is hard to believe, but Subway has surpassed McDonald's as the world's largest restaurant chain, according to the Wall Street Journal. Subway now has 33,749 restaurants worldwide, while McDonald's has 32,737.
While Subway probably isn't the first, or even the fifth restaurant you'd name when you think of fast food, the number of Subway shops in the U.S. actually surpassed McDonalds nine years ago. The company is also rapidly expanding outside the U.S. and plans to have more foreign stores than domestic ones by 2020.
McDonalds still sells more food than Subway, and it's trying to make customers think of the chain as more than just a place to get fatty burgers. Part of that plan involves distancing itself from Ronald McDonald. The mascot's still on Happy Meal boxes and is the face of the Ronald McDonald Houses, but Ronald and his pals haven't been featured in many commercials recently. The company has been pushing its healthier options and McCafe coffee, and it's hard to imagine an overexuberant clown and a guy with a hamburger for a head sipping lattes and taking advantage of the store's free wifi.
Subway Runs Past McDonald's Chain [WSJ]
Where's Ronald? McDonald's Mascot Takes Back Seat To Upscale Marketing [Time]