Controversy has erupted over the references to aboriginal art in Rodarte's fall collection. Megan Davis, an aboriginal law professor and an expert member of the United Nations Permanent Forum on Indigenous Issues, says that she finds the collection offensive. "The thought of seeing women walking around in this particular ready-to-wear collection sickens me," says Davis. "Because it is my culture and it is where I come from. I appreciate that we live in a postmodern culture, where people do take inspiration from particular areas and it is a complex area of law. But as an Aboriginal lawyer I found the designs offensive." Davis says the use of sacred art works as fabric prints "is completely insensitive to Aboriginal art and spirituality and land and how they are inextricably linked." Australia's indigenous peoples practice the world's oldest living art tradition, and the paintings that Rodarte used as textile prints describe "a clan's songlines, story, life and very essence, with responsibilities and reciprocal obligations to land and kin." The issue of fashion's appropriation of indigenous people's art and culture has been brought to the fore most recently by the Navajo Nation, which is suing Urban Outfitters for marketing over 20 items as "Navajo" when they were not, in fact, Navajo-made — including some especially insensitive things, like a hip flask and women's underwear. [Frockwriter]
After stalling for some four days, Rodarte released a brief statement saying they had licensed the prints in question "through the appropriate channels." The company says, "As a result, the artists will share in proceeds of the pieces inspired by their work." [Fashionista]
Apparently, there was only one aboriginal artist whose work was used: the late Benny Tjangala. "The widow of artist Benny Tjangala will see this use of his artworks quite differently to the professor," says Anthony Wallis of the Aboriginal Artists' Agency, which did in fact arrange for the license. "She will appreciate the royalty flow over the next 12 months!" It strikes us that Davis' comments were fair, given that Rodarte was forthcoming about neither the fact that it licensed the prints, nor the individual artist's name. That reticence leaves the unfortunate impression that while Rodarte was happy to pay to use another artist's works, the brand was less keen to share the credit. A simple mention in the show notes might have avoided this whole thing — and led to fewer cringe-inducing fashion reviews erroneously crediting generic "Outback influences" (thanks, Robin Givhan — but this isn't a steakhouse) as the inspiration for the collection. [Aboriginal Art News]
---
This Zoo York ad featuring Kate Upton working out to a commentary track from the brand's signature cockroaches has been banned from T.V. for being too racy. Apparently a curvaceous woman exercising in leggings, a sports bra, and an unzipped windbreaker is "racy" now? We're familiar with the well-worn publicity stunt that is the purposefully un-broadcast-able "too hot for T.V." ad, but this actually seems like a real ad that somehow ran afoul of Standards and Practices. This is the "uncensored" version — the T.V. edit would have bleeped out the cockroach profanity at the end — but even the censored version was rejected by Adult Swim (!) and MTV for an alleged "erect nipple." Ladies, never forget that your nipples are too hot for Adult Swim. [NYDN]
---
G/O Media may get a commission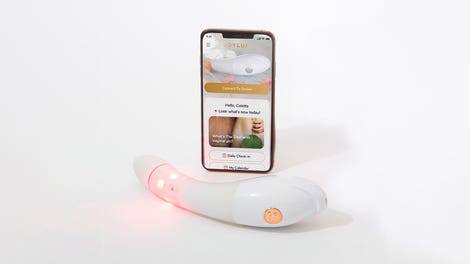 $50 Off
Joylux vFit Gold Device
Anais Gallagher, daughter of Noel Gallagher and Meg Matthews, had her first model test shoot. She blew bubbles at the camera. Anais Gallagher is still 11 years old. [Vogue UK]
---
Grace Coddington doesn't have much time for the notion that fashion's reliance on a vast pool of (mostly unpaid) intern labor is problematic. "They're there to learn and observe. I think there are a lot of interns that feel very entitled. They think we owe them something. Good ones come through though. You really notice them," says the stylist. "I'm sure they are somewhat abused and we do send them out to get an awful lot of cups of coffee, but they're learning all the time." [The Cut]

Adam Levine knows that "there's a stigma attached" to having a celebrity fragrance. "A stigma that I fully understand because I, too, hate the idea of a celebrity fragrance, absolutely, 100 percent." He hates it so much that he has to have a celebrity fragrance of his own — to save the genre from its crushing mediocrity! "I kind of thought to myself, 'Well I'm interested in fashion and there's a lot of things about it that could be really cool if done properly. So I want to do a thing that's never done properly. That's my goal." Also, money. [People]

Estée Lauder just got a new face: runway model (and favorite of Anna Wintour) Arizona Muse. Muse joins Elizabeth Hurley, Carolyn Murphy, Hilary Rhoda, Constance Jablonski, Liu Wen and Joan Smalls as fellow spokesmodels for the brand. Muse hasn't yet shot for the company, but her first ads are expected later this year. [WWD]

L'Wren Scott says being 6'3" was no picnic growing up. "I was that kid who couldn't find anything to wear. All the cool kids would have jeans the right length and I would just think 'what am I going to do?'" Buying a second pair of jeans to cut the bottoms off and sew onto the hems of the first proved a more or less workable solution, albeit one that depended on the goodwill of her mother's purse. [Vogue UK]

Five novelists — including Karen Russell, Alex Gilvarry, and Heidi Julavits — wrote flash fiction inspired by street style photographs for Vogue. Of course. Russell's story takes a photo of a Pomeranian in a handbag and imagines a robo-fashionista masterminded by the pooch. Well played. [Vogue.com]

Net-A-Porter just announced a big hire: Lucy Yeomans, the longtime editor of U.K. Harper's Bazaar, will join the company in the newly created position of editor-in-chief. [WWD]

More women are apparently wearing bright, matte lipstick — picking a signature color, if you will. This is apparently because of the J. Crew catalog. [WSJ]

There's buzz that Abercrombie & Fitch, which still hasn't recovered from an extended period of very poor sales during the recession, might be bought out by a private-equity firm. [WWD]

Hungarian Vanessa Axente, whose international career seems poised to take off now that she did looks for Prada and opened the show, has been modeling in Japan and Singapore since the age of 14. [The Cut]

Donald Trump is preparing to launch a second signature fragrance for men, called Success by Trump. "It's funny, I'm the only one who will sell a $50 million apartment and also sell a tie," says the mogul, frequently licensed name, and presidential-candidate impersonator. "You know, it's all the same thing when you think about it." Trump's last fragrance, launched nearly a decade ago, sold very poorly. [WWD]

Ralph Lauren is launching a collection of Pony-branded fragrances for women. [WWD]

Qatar Holdings, the company that owns Harrods department store in London, has acquired a 1.03% stake in Louis Vuitton Moët Hennessy. [WWD]

Salvatore Ferragamo reported a 69% increase in its annual profits for 2011, the year it went public. [WWD]

And now, a moment with Simon Doonan. Simon, what do you hate in fashion?

"I don't hate anything in fashion. Everything is okay as long as you do it with enough conviction. Hating on stuff is what causes mediocrity and conformism. It makes people nervous and cautious and they start reining in their flamboyant impulses. So you could say 'I hate hating.'"