Uh oh. Robin Thicke has gotten himself into a little trouble with the law. The Grammy winner was arrested in New York earlier today for possession of marijuana, after the cops happened upon him smoking a joint in a car. Apparently, he and another person were hanging out and indulging in a Cadillac Escalade that was parked near Third Avenue and East 21st Street. Dude, bro, getting arrested in Gramercy Park is so lame.
Thicke was said to be very cooperative with the NYPD. He even gave them autographs and took pictures with them before he was given a ticket and released. Maybe we shouldn't be surprised he got caught, since Robin is a known fan of drugs. He said in a December radio interview, "Let's just put it this way, I've never met a drug that I didn't like." Hmm, sounds like maybe it's time for his dad, Alan Thicke, to step up and give the 34-year-old a Growing Pains-style lecture about not breaking the law—or at least not being dumb enough to get caught. [Reuters, OMG!]
---
Here is an extremely detailed account of how Aretha Franklin reacted when she found out that Whitney Houston, her goddaughter, had died. She was in a hotel room in Charlotte, North Carolina, watching The Descendants when she got the news: "Maybe two minutes after I [turned off the movie], it came across the screen. I jumped up off the side of the bed ... I just said, 'Oh my God. That's not good.'" It's too bad she had to find out from the TV. [People]
Speaking of Whitney, there is a wake for her being held tonight, in advance of tomorrow's funeral. Apparently hundreds of fans have already lined the streets near the funeral home and the church where the memorial is set to take place. [E!]
G/O Media may get a commission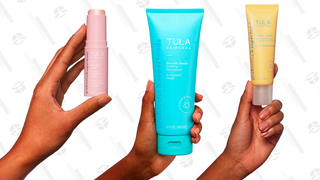 ---
Reese Witherspoon reports that she was insanely nervous to meet Kate Middleton this summer when the Princess visited California. She told Ellen Degeneres the story of attending a fundraiser with the famous Royal:
My husband just thought I was so dorky. He was like, "Why are you so excited?" I must of tried on like six outfits. I'm meeting a princess! You don't understand. You have to be wearing the right outfit and the whole thing.
Deep breaths, Reese. She also said she'd like to "hang out with" the Princess more often but she isn't sure if Kate feels the same way. Girl crush alert! [OMG!]
---
Stalking is never funny, but at least Kenny Chesney's stalker was nice enough to bring some wine when she broke into his Tennessee property. After an alarm call summoned police to his house, they found Melissa Carol Mansfield sitting in the "backyard restroom," which sounds an awful lot like an outhouse, drinking said wine and smoking a cigarette. Well, at least she's the polite kind of stalker. She's was arrested and is being charged with public intoxication and criminal trespassing. [E!]
---
Would Robert Pattinson ever reprise his Twilight role if Stephanie Meyer wrote more books? He says he's worried he'd be too ancient: "I'd be curious what Stephenie would write, but I just think I'd probably be too old. I'm already too old. But yeah, it'd be kind of interesting." Wait, I thought RPatz was ageless and immortal? [OMG!]
---