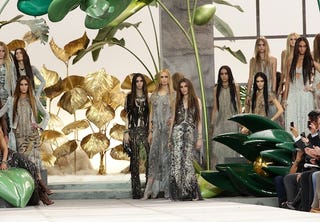 Though he's never been one to embrace subtlety, Roberto Cavalli's show in Milan today was a bit muted. But pale colors aren't boring when you're taking about shredded nightgowns and sheer pants held together by string.
Likes: Mad Max, the Rolling Stones.
Dislikes: Rain, escalators. (Too dangerous!)
Body confidence not included.
Not only is this a glam take on a wild animal print, it looks as if it may have actually been attacked by a wild animal.
Cher just ordered this. Although she would probably prefer it in white. And she'd like more feathers. Please.
Does anyone have the urge to crochet a plant holder?
Ever-so-pale pink is neither sweet nor girly when there's snakeskin and rock n' roll lace-up trousers involved.
This is a costume from The Mermaid We Caught On New Year's Eve, a musical someone somewhere is working on.
The flat-ironed '70s hair takes you back to the early 2000s!
Insert your own "I'm a frayed knot" joke here.
Very expensive biker chick chic.
Desert colors and snakeskin accents make for a luxe take on Easy Rider.
Another delicate color, another chance for your cat to go completely insane.
The tassels really add something.
Another point for Team Slytherin.
All string, no cheese.
Cavalli loves throwing parties on his yacht, and that seems like the perfect location to wear this demure, hip-bone-bearing gown with an epic thigh-slit.
One can't help but wonder if these garments made a swish or a jangle sound as they came down the catwalk — perhaps just a gentle whoosh, like a large sum of money transferring into a trust fund?
[Images via AP.]