The Sparkle Vamp and his hair get the full "New James Dean" treatment in the December issue of Vanity Fair: There's a Romantic-Weekend-In-New-England photoshoot (Fisherman sweater! Lobster!); an interview with Evgenia Peretz; he's labeled "Byronic." But Pattinson barely plays along.
As everyone knows, when magazines do these "New James Dean"-type profiles, the dude is supposed to be mysterious, introspective and confident. Yet though Peretz describes Pattinson as "an exquisite beauty - with perfectly formed red, red lips and a face that might have been dreamed by the Romantic poets," he says he thinks he looks like "a cartoon character." Oh, and one of his legs is longer than the other, which makes him look "like an idiot."
When Peretz visits his hotel room in San Diego, she finds it littered "with beer bottles, old scrambled eggs, a half-eaten Twix bar, and a dirty pair of jeans on the living-room floor." Instead of embracing his rock-star persona, ignoring the mess and feeling no shame, Pattinson notices that he hasn't made his bed and says: "Oh, God. Sorry about that." Dude! A rebel without a cause never apologizes!
The magic words usually uttered by a "New James Dean"? "I really want to direct." Pattinson just talks about how when paparazzi follow him, he's terrified that his "ass crack is showing." Instead of being psyched about attention from millions of women since the Twilight frenzy is so heated, Pattinson says: "I guess I'm not the type of guy cut out to do a franchise… I'm not much of a crowd person."
As for the rumors that he's shagging Kristen Stewart, Pattinson doesn't give a sly Hollywood answer. Instead he says: "It doesn't make any difference what you say [to the tabloids]. I've literally been across the country [from Kristen], and it's like 'Oh, they were on secret dates!' It's like 'Where? I can't get out of my hotel room!'"
G/O Media may get a commission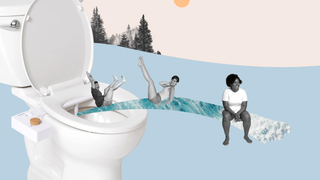 17% off
Tushy 3.0 Warm Water Spa Bidet Attachment
Painting the star as a normal guy a bit flustered by fame means reactions to this interview are mixed. VF commenter girlEgirl6 writes:
Its impossible for me to LOVE Robert and SWOON over him anymore than I already do but after reading this interview Oh Lawd! I LOVE HIM EVEN MORE. lol He's soooo scrumptious.
JacyB is not as enthusiastic:
I have looked forward to buying this issue for months BUT now that I've read your article about Rob I WON'T be buying it. You've seemingly gone out of your way to put Rob in a bad light. A drunk, dirty, paranoid, weirdo? Why would you focus on such negative things when there are so interesting things to ask him? I am also surprised you deny that he and Kristen are in a relationship but they don't support it with their quotes. Plus, the quote you have for Kristen is from an interview she did last year with another mag. You've just lost your credibility. I thought VF was a classy mag but apparently you're no better than the national inquirer. I'm sure you will sell a record number of copies because of the pics so you really don't care. However, if I were Rob, I'd never do another interview with you again. Shame on you because he doesn't deserve to be treated so unprofessionally!
Evgenia Peretz on Robert Pattinson: "Twilight's Hot Gleaming", Robert Pattinson: The Bruce Weber Portraits (Part One) [Vanity Fair]