A robot has mastered the envious skill of hitchhiking. We are doomed.
The Robot Overlords (possibly in league with SkyNet and/or the Lizard People) have unleashed a robot who is hitchhiking cross county all by itself. HitchBOT (do not be fooled by the adorable name; it's still ONE OF THEM) is hitchhiking across Canada to enslave humans and turn them into mindless drones before the impending robot wars to "explore...and meet new people along the way."
I was conceived in Port Credit, Ontario. My guardians are Dr. David Smith (McMaster University), and Dr. Frauke Zeller (Ryerson University). Growing up I was surrounded by bright, intelligent, and supportive people who I am proud to call my family. I have one sibling, kulturBOT, who travels from one art gallery to the next, tweeting photos of the artwork and of the venues. kulturBOT is definitely not as good-looking or well-rounded as I am: I enjoy reading a lot of books, and I'm especially interested in philosophy and astrophysics. It certainly is an interesting mix — that is what happens when a robot is influenced by both the sciences and humanities.
We thought this dark day would never happen. The robots are already determined to take over our labor force, but they aren't satisfied with that. Now, they wish to force unemployed vagabonds out of their only means of transportation. Dastardly. What will become of all the struggling guitarists and their hand-written "LOS ANGELES OR BUST" signs now?
Preying on unsuspecting, all-too-hospitable Canadians is far too easy for the robot traveler:
My GOD, do we even know what's become of Sharon & David? Has anyone called their loved ones?
G/O Media may get a commission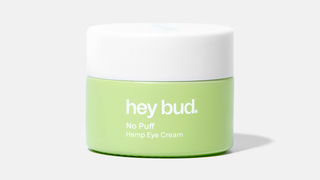 15% off
Hey Bud - No Puff Hemp Eye Cream
Later they all had their memories erased so their brains could be implanted with pro-robot propaganda. So sad.
HitchBOT has other pastimes, aside from embarking on long road trips to help enslave humanity:
Simply put, I am a free-spirited robot who wants to explore Canada and meet new friends along the way. I am an avid instagrammer and tweeter. On my downtime, I can appreciate a good game of trivia and would never pass up any opportunities to bake desserts.
He seems to be interested in our culture:
But he is also extremely testy. DO NOT BORE HITCHBOT. YOU HAVE BEEN WARNED.
He's clearly focused on claiming more human victims on his path:
Yahoo Finance attempted to unearth more information about HitchBOT and the possible motivations of his human familiars:
"Usually, we are concerned whether we can trust robots … but this project takes it the other way around and asks: Can robots trust human beings?" explains another creator, Dr. Frauke Zeller.
Well. You can't say I didn't warn you about this plenty of times. Now I can only offer this, to my dear Canadian readers. If you should see this hitchhiking robot, please do not do anything to enrage or bore it. Put it in your car. Give it a ride. Make small talk about baking desserts. I'm afraid there is little else you can do.
Image via Twitter.