This week's episode of Keeping Up With the Kardashians was nearly flawless. We watched as family was ripped apart, limb by limb, by one of their own—and even worse, it was done online, via memes.
For our A-Plot, we saw Rob and Chyna harass their family members online; the B-Plot was Kris Jenner evicting Kim and her growing family; and the C-Plot was Kendall's FOMO. #LEGGO.
In our cold open, Khloe Kardashian heads to set/Kylie Jenner's home to film a "Cooking with Kylie" segment for Kylie's app, KYLIE. Joining them as their sous chef is Kylie's friend, Harry. The trio make beef sliders and take every moment to sexualize the raw meat, white cheddar cheese and condiments. This unsavory cooking moment was filmed on April 22, 2016.

G/O Media may get a commission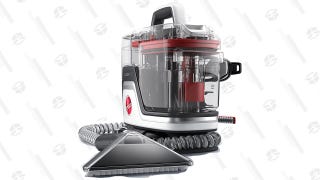 Save $10
Hoover CleanSlate Plus Carpet & Upholstery Cleaner
Kourtney Kardashian, Kendall Jenner and Penelope Disick grab lunch at Calabasas hotspot Blu Jam Cafe. While looking over the menu, cover/reality star Kendall Jenner, asks her sister Kourtney what sauerkraut is. Like the millions of viewers bearing witness to this moment, Kourtney is confused about her sister's complete lack of understanding in regards to one of our nation's greatest toppings. Kourtney can only explain the food as being "sour" and Kendall is not sold. It seems the group decides on ordering nothing, which frees their mouths to speak more freely than on their recent outings.
Kourtney mentions that she and Kylie were in the city of Los Angeles the night prior at a WME party with friends. Kendall, who has broken through the Calabasas bubble, lives in the city of Los Angeles and is sad that her sisters would deign to darken the city's limits without contacting her. Kendall is sure to point out that she is blessed to travel so much that she's not always home, but it wouldn't hurt her sisters to check in on her whereabouts. This informative lunch was filmed on January 11, 2016.
Kimberly Kardashian and her hanger-on/friend Jonathan Cheban lounge at Kris Jenner's house. Kim and Jonathan, enjoying their own company in front of each other, are interrupted by some troubling news. According to a friend, as well as evidence on the internet, Blac Chyna has openly made fun of Kylie's new cooking segment on her app. Under the impression that Kylie's "Cooking with Kylie" segment is a direct rip off of her "Cooking with Chyna" show, Chyna has blasted Kylie on Instagram. Kim calls Kylie, who is completely distraught.
Both Kim and Kylie thought that their odd family dynamic was taking steps forward to avoid public moments like this, but that's obviously not the case. Kim urges Kylie to ignore Chyna and urges her not to take any public digs at her brother's girlfriend. Instead, Kim tries to call Rob who doesn't pick up the phone. His voicemail isn't set up, so she can't leave him a message either. The pilot episode of Calabasas Cooking Wars was filmed on February 22, 2016.
Kim visits Khloe at Khloe's home. Kim is frustrated today because her landlord, Kris Jenner, has taken the beginning steps of evicting Kim and her family. Apparently, Kris is so fed up with sharing her home that she disassembled Kim's furniture and donated it to Rob Kardashian. Kris claims that Rob owned the furniture to begin with, but neither Kim nor Khloe are buying that. Kim and her family were put out on February 18, 2016.

At Kylie's house, she and Kim eat salad and face swap. The sisters are tickled pink at their Snapchat masterpiece, but their happiness is soon silenced by some text messages from Rob. Rob, who's just moved into his new home, is already ready to move out and has asked Kylie if Tyga wants to buy the place. To begin, this is not Rob's house to sell, as he doesn't own it, and he's barely resided there for seven days and nights. This scene was filmed on March 3, 2016.

Kim and Kourtney drive about town in a family-friendly-luxury-vehicle. Kim is upset that Kris Jenner continues to copy her style by wearing snapbacks and Yeezys out in public. I, on the other hand, am happy that Kris has done this because it has provided me with the unmatched joy of hearing Kim repeatedly say "Yeezys" like she's learning a new language and trying to make it sound natural on her tongue, while needing an allergy pill all at the same time. It's truly mesmerizing, but, I digress. Kourtney tells Kim about Kendall's feelings of exclusion from her sisters' lives. Kendall, who is busy traveling the globe, misses quality sister time and the spoils of American grocery stores.
Kim scoffs at this because she hasn't been to a grocery store in "like four years" and doesn't even know what "flavors" of deodorant they sell at those establishments. Kim, who has obviously lost her mind, doesn't remember going grocery shopping here, here and here, to name a few, in the last four years. Refusing to acknowledge Kim's insane musings, Kourtney suggests that she and her sisters surprise Kendall with some of her favorite things so she feels more included. This car ride was filmed on March 9, 2016.
Kourtney poses for Instagram photos in her home while Kris Jenner waits in boredom. Kris has essentially been kidnapped by Kourtney so that Kim can finally and officially move out of Kris Jenner's mansion. Kim wants to one-up Kris on the surprise factor and has orchestrated a full day of getting her mom out of the house so the moving vans can transport her furs from Calabasas to Bel Air. At Kris' house, Kim touches not a thing but oversees the movers with an iron fist. The former lady of the house forces them to shove her belongings into just a few moving vans because they don't have the time, dammit!!! This is a SURPRISE!
While Kim "moves," Kourtney, Kris and Penelope enjoy salads at Health Nut. Kris is already talking Kourtney's ear off about how she has no time to herself since Kim refuses to move. Little does she know, Kim is on her way out. After hours of talking about Kim and being held hostage outside of her home, Kris decides she must depart. When she arrives at her doorstep, Kim, with a lifeless expression, awaits.

Kim shows Kris around her now empty rooms, and Kris is overjoyed. Like a good mother should, she feigns sadness that the house is now empty, but victory is hers when Kim takes her final steps as resident out of this Calabasas retreat. This "move" was filmed on February 29, 2016.
Kris, Kourtney and Penelope take in yet another meal—this time at Hugo's—and are joined by Reign Disick. Kris is in a very sad place because Rob took to his social media to make fun of the food she bought for him in his new house. Rob and Chyna posted various videos on Snapchat laughing at the healthy options. This really gets to Kris because she wasn't only stocking the pantry for Rob, but for the entire family who would ultimately visit. She exclaims, "so shoot me because we like quinoa!" Kris tells Kourtney that David Schwimmer Rob Kardashian Sr. would not be pleased with his son's actions and would have expected more from him. Kris is at a total loss. This sad, sad lunch was filmed on February 26, 2016.
At Kendall's Los Angeles condo, Kim and Khloe sneak in to leave her a gift basket full of goodies. They pack a box with photos of themselves and American goods. While arranging the display, Kim takes a break to rummage through Kendall's cabinets. That oughta make her feel included!! This scene was filmed on March 10, 2016.
At Kris Jenner's house, Kim Kardashian and Kylie Jenner retreat to the garage to call Rob out on his social media shenanigans. Kim is super unimpressed with Rob bashing his mom's efforts online and thinks that he needs to check his and his girl's actions before making his feelings for their family so public. Kylie stares at Kim on the phone, twitching various segments of her face every time Kim says something scathing to their brother. Kim continues to tell Rob that Kylie and Chyna can work out what they need to behind closed doors, but he needs to stand up for his family and his mother, especially. Basically, Kim wants Rob to put some RESPECK on his mama and 'nems name. Rob agrees, but reminds Kim that he "fucks with Chyna." This call and scene both took place on February 19, 2016.
At Kris Jenner's house, Kim is joined by Employee of the Month, Corey Gamble, and the family's greatest victim, Rob. Kim has lured Rob over to Kris' home so that he can apologize to his mother for making fun of her online. When Kris enters the scene, Rob is eager to apologize, because he loves his mom and she just "didn't get" his humor in the moment. This scene is perhaps the best of the bunch: although Rob's been out of the Television Game for years, it's like he put on an old hat. This scene was filmed on April 27, 2016, two months after his posts were published. The grins on everyone's faces are so menacing, yet hopeful. The young man is back in their clutches. The smirk never fades, she plots, she thinks, she Keeps Up.
Man, oh man, Dolls, what an episode! I wish I could sit with you all forever, but all good things must come to an end. Visit me next week for another KUWThe Cyber Bullies re-cap on #KUWTKE. #CookingWithFillInTheBlank

---
Mariah Smith is a writer and comedic performer who keeps up with the Kardashians. For more Keeping Up With The Kontinuity Errors, click here. You can follow her on Twitter @mRiah.
Images via E!