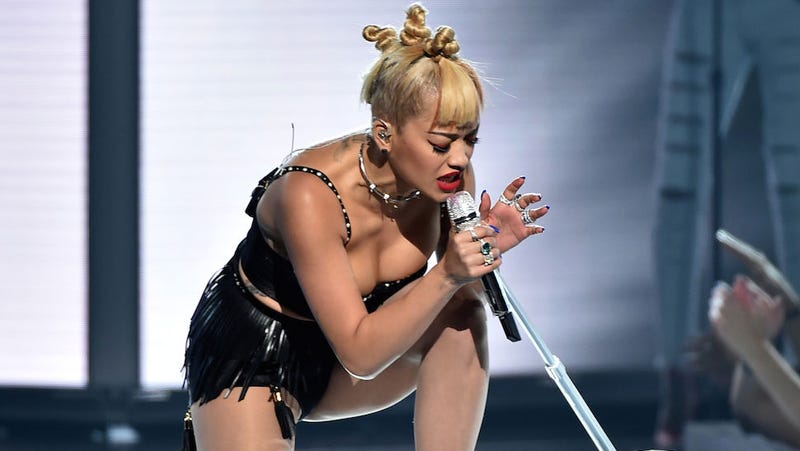 You know, I'm actually here for Rita Ora, in theory, but at this point she is better known for her "manicam appearances" than for her music. Which is a shame, because she actually has a very powerful voice. But hey, boy can she sell some perfume, though!
So this year has been fairly prolific for her music career, because she just released her second and a half song of 2014, after this Spring's "I Will Never Let You Down" (the half goes to "Black Widow," that drip of a single with her BFF Iggy Azalea). The Diane Warren-penned track, "Grateful," is from the Beyond the Lights soundtrack, which also has a markedly more exciting-sounding track with Mavado featuring Nicki Minaj. (!!!!!!!) "Grateful"(listenable at Billboard) is a nice ballad and showcases Ora's voice well enough, but it also reminds one that she is on the same label as Rihanna. Which, one could speculate, is a reason she hasn't dropped all that much music since signing to Roc Nation. Everyone will forever be second to Rihanna in that scenario.
Then again, maybe she just wants to focus on her other ventures, which so far seem to be quite successful. In addition to her spot as the face of DKNY perfume, as a model she's landed campaigns with Roberto Cavalli, Marks & Spencer, Rimmell, Adidas Originals and Madonna's Material Girl line—and that's just in the past 12 months. Next year, she will appear in what will likely be one of the biggest romance films since Twilight, as Mia Grey in 50 Shades of Grey. (She's also cast in Southpaw, the Jake Gyllenhaal boxing movie.) With all that stuff going on, plus fashion spreads and late night appearances and being a fashion starlet and all that, who has time to even work on music? Right? But lo! Maybe there's hope: she was recently spotted in Los Angeles, working on a music video. Could even more music be on the way?
Image via Getty.