Rihanna's third Vogue cover is out today, and it's — of course — beautiful. The accompanying story, not so much.
Rihanna is one of the most successful pop stars in the world, she's a fascinating and compelling public figure, and she's a fashion icon and inspiration to many. I would love to read a profile that sheds light on the phenomenon that is RiRi. Unfortunately, the Vogue article does not even come close to that — it seriously reads like an excuse for Plum Sykes (professional oblivious person, Vogue writer-cum-socialite, Gwyneth Paltrow hair expert) to gloat over all the cool clothes she asked Rihanna to pick out for her.
Since her last Vogue cover in November 2012, Rihanna has accomplished a lot — some of which is mentioned briefly in the Vogue piece, in passing. A lil' recap: Rihanna's most recent album, Unapologetic, came out the very month of her previous cover story. She directed the music video for "Pour It Up," a single off that album, herself; some critics thought it was objectifying, whereas others thought it was a powerful celebration of feminine sexuality. Interesting! Wonder what Rihanna's take on the debate is? (We never learn.) The very day of this interview, Rihanna learns that she now has as many number-one singles as Michael Jackson. Is she excited? Probably, but she's never asked about it. She's had several fashion accomplishments as well: she's the new face of Balmain, she's a muse to Alexander Wang, and she's designed four collections for River Island. But, alas, she's not really asked about any of that.
The vast, boring majority of the piece focuses on Plum's desire to look and dress like Rihanna. It's astonishing: every time the piece meanders in the direction of Rihanna — Rihanna's thoughts, Rihanna's past, Rihanna's public persona, Rihanna's hopes and dreams — Plum steers it quickly back to the subject of "my shopping trip, overseen by Rihanna, was quite the adventure." It's the most laughably solipsistic way one could ever address an icon: Yep, she's great, but what about meeeeee?
G/O Media may get a commission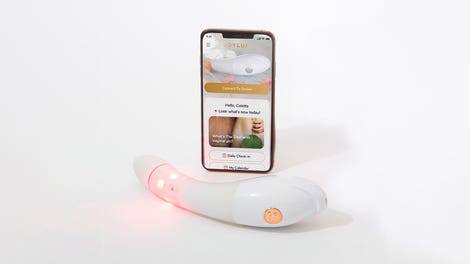 $50 Off
Joylux vFit Gold Device
When Rihanna first appears on the scene, Plum gushes about her personal appearance; once she gets to the singer's eyes, however, she gets sidetracked: "Her light caramel eyes are lined with an immaculately drawn catlike flick of kohl. 'I do them myself,' she explains. Could she do my eyes?" Rihanna is so pretty. But what about me — will she do my makeup? Rihanna is also so fashionable:
Rihanna looks brilliant, and so original. "Rihanna," I tell her. "I feel drab, frumpy. I feel mommy-ish and totally uncool in every fashion way possible." The intensity of these feelings increases with every second I spend with Rihanna.
What about me? Rihanna, will you buy me a coat? And so she does: after we're treated to over a page of Plum trying things on, punctuated by vague, desultory references to Rihanna's childhood and "tabloid headlines," Plum FINALLY finds a perfect coat. Thank god. "I don't like to sound like a show-off, but I look seriously interesting in that jacket," she gushes. "I would never have chosen it. It was totally Rihanna's idea, and it works." Pro-tip: saying that your coat was Rihanna's idea doesn't make your coat about Rihanna.
The shopping trip continues:
Now Rihanna wants to take me to the Tom Ford store uptown for a party look. I tell her I am going to an art opening in Chelsea followed by a Christmas party at Estée Lauder group president John Demsey's house. I want to look different.
Oh, cool, sounds like you are important, Plum. Oh, by the way, what is Rihanna — the subject of this profile, as you may recall — doing later? Um, well, we never learn. But we do learn that Plum dawdles too long and misses her parties (the horror!), presumably because she's busy obtaining some details about Rihanna which she can glibly recap in order to make it seem like an interview occurred at all. In the space of a single paragraph, we get this:
She wants to start a fashion label soon. She thinks fashion is a big part of her success... She has a charity foundation called the Clara Lionel Foundation, her grandparents' names combined, which helps kids. "I have a very firm relationship with God and I believe in Jesus, and I stick to that." Having said that, Rihanna is no nun. Minutes later she tells me about her latest favorite T-shirt, which is printed with a semi-nude photograph. "Do you wanna hear something messed up?" she asks. "I just found out yesterday that was me!!! That is an old naked picture that they blew up and put. . . ." She dissolves in laughter, unable to finish the story.
Rihanna, fashion icon, wants to start a label. Next. She has a charity. Next. She's religious, even though she's known for being overtly sexual. Next. She has a funny anecdote, which she never got to finish, presumably because the next paragraph begins with "I check my watch." You know your celebrity profile is Really Not Good when facts about her personal life and achievement serve as a placid, unremarked-upon backdrop to your own personal style makeover.
So: cool stories, Rihanna, but Plum has some parties to get to. In a dizzying feat of self indulgence, Plum LEAVES RIHANNA AT THE RESTAURANT and the rest of the profile follows Plum's New Outfit instead. Plum meets up with her old friends, who like her new coat. It doesn't end there, though — on her way to the airport the next morning, someone "amazingly" takes a street style photo of her. Later, disappointingly, her cab driver tells her she dresses like a dentist.
"This Rihanna thing is going to take way more practice," she laments in closing. Yes, Plum. Yes it will.
Images via Vogue.