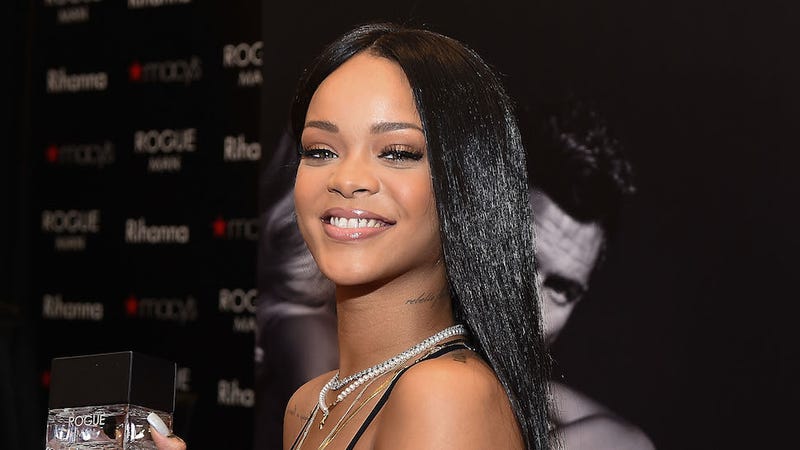 She has Rih-sen.
It has been nearly six months to the day since we lost our dearly beloved Badgalriri, Rihanna's Instagram account. Instagram has never really been the same. I guess the pain never really went away; we just figured out different ways to cope with it. WELL QUIT YOUR MOURNING, BECAUSE BADGALRIRI IS BACK:
And I love her second post made so far—the stiletto manicure on her stick figure is perfect.
Here! See for yourself! Treat yourself to all of the weed-smoking, sun bathing, photo shoots, and memes.
---
Emma Watson
was awarded British Artist of the Year at the Britannia Awards this year and dedicated her award to Millie, her pet hamster who died of a heart attack on set of the first Harry Potter film. Aww. [ONTD]
---
Not that Chris Brown could ever steal Badgalriri's thunder, but this Instagram post from Wack$tar seems to indicate that Karrueche Tran may be pregnant.
Neither Karreuche Tran nor Chris Brown have mentioned anything about this. [ ONTD]
---
Selena Gomez keeps calling cops thinking there was an intruder, but apparently they were all false alarms. Um I would be crying wolf all day if a stalker showed up to my mansion. [TMZ]
Joshua Jackson thinks men should always foot the bill on dates "unless the woman specifically asks." I, on the other hand, would pay for a date with Joshua Jackson. I think. He then postulated on what it was to be a gentlemanly gentleman. [ONTD]
Apparently at BBC Radio 1's Teen Awards, Ariana Grande screamed, "WATER" whenever she was thirsty and an assistant would "scurry" over with a bottle of water with a straw. Grande knows how to live. [Celebrity]
Jessa Duggar married that dude Ben Seewald, and they did not kiss at the weeding because they "want to experience that special moment in private." [People]
Twitter helped reunite Jason Biggs with his lost dog. And I realized, I would never wish a lost dog on anyone, not even Jason Biggs. [Time]
Here's a video of Garth Brooks in concert, running and jumping up because he's a star and than falling and rolling and getting right back up because he's still a star. [TMZ]
Jokester Robert Downey, Jr. joked around that his wife's second pregnancy "has been extraordinarily tough for me." GET IT? BECAUSE IT HASN'T! Oh you, RDJ. [People]
YAY SLEEPING IN AND THEN OH GOD KINJA PROBLEMS! Thanks so much for your patience. Our tech crew's been working endlessly to bring us back.