Buried deep within this lengthy GQ Style story about Diplo and his recent tour in Africa is a sweet little story about why Rihanna has never shown up on a Major Lazer track.

It's not that Diplo hasn't tried. It's just that Rihanna isn't interested because, to her, the music that Diplo makes with Major Lazer sounds like a Muzak-version of the actual music that it's aping. GQ's Will Welch pointed out to Diplo that Rihanna's music and Major Lazer's music seemed "well aligned." As expected, her response to Diplo (in his own retelling), was perfect:
Rihanna and Major Lazer seem well aligned.

I think before we're all done, she'll be on a song of ours. Hopefully. But if not, I don't really care. I played her "Lean On." She was like, I don't do house music. I face-palmed so hard on that one. Another time I had a session with her, and Future was also invited. The Weeknd was there. Metro Boomin was there before anybody knew who he was. I was so contact high. Future played her, like, 700 songs. It was four in the morning. Finally, I was like, Yo, G, I'm leaving unless you let me play her a song. So I played her a song. And she was like, This sounds like a reggae song at an airport. [laughs] I was like, I'm gonna go kill myself.
There are a few things in this delightful quote that deserve unpacking, the first of which is Diplo's choice to play "Lean On" for Rihanna. In case you're unfamiliar with the song by title, here is the video. I'm sure after the first minute or so it become very familiar.
Why would you send this song to Rihanna? One would think that if Diplo had been working so dang hard to get Rihanna to bless one of his tracks with her presence, he would've listened to her work and then selected something from his back catalogue of music that at least lives in the same neighborhood as her shit? Furthermore, I am chortling out loud at the idea of Diplo threatening to leave a session with Future, Rihanna and the Weeknd because they wouldn't let him play one of his songs. Can you imagine being told by Rihanna that the fresh and unique sound you've spent your entire professional career cultivating sounds like "a reggae song at an airport"? It's rude, but it's also true. Sorry.
G/O Media may get a commission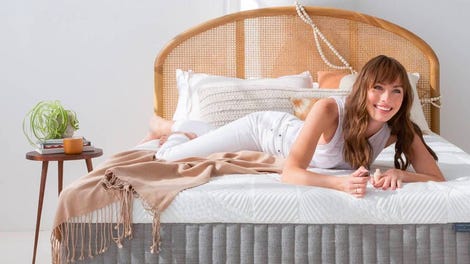 Sleep Sale
Sleep Sale - Brentwood Home
A couple of other stray observations: a blonde Diplo looks like both Lucius Malfoy and Viserys Targaryen; it's "hard" for him to watch James Van Der Beek playing him on What Would Diplo Do?; his Vegas residency pays the bills and nothing more; and he's working on some "disco music" with Mark Ronson that could either be a disaster or just fine. Read through the entire story if you are interested in hearing about Diplo's travels through Uganda and Ethiopia; if you're not, I understand.