The trial of John Edwards continued yesterday with testimony from an aide who claimed the former Democratic Senator and ex- Presidential hopeful had a cute nickname for his former sex partner and the mother of his child — crazy slut. And boy did that crazy slut love to spend campaign money. Love is so beautiful and precious, you guys.
Yesterday's testimony in the embarrassing but train wrecky trial of John Edwards came from Andrew Young, the aide who once claimed that the child of Rielle Hunter was his so that Edwards wouldn't get in troubs, even though it turned out that the child was actually the spawn of Edwards, and that Edwards and Hunter had spent the summer when the child was conceived making weird, gross sex tapes together. But despite what Edwards said to Hunter when his penis was near her, according to Young's testimony, he told his aides a different story. As soon as she found out she was pregnant, for example, Edwards responded incredulously, saying that it easily could have been two other dudes. He also didn't find Hunter trustworthy on the grounds that she was a "crazy slut."
Regardless of her craziness and/or sluttiness, Edwards still saw Hunter's threats to go public as credible and problematic, and thus began spending money to keep her happy and silent. According to Young, about $1.2 million was spent to keep Hunter in what the New York Post believes to be expensive tastes — she stayed in fancy hotels, ate only organic food, drove a BMW, traveled by private plane, and was given a credit card with the name "R. Jaya James" and a $5,000 to $12,000 monthly allowance. On top of that, claims Young, who is testifying in exchange for full immunity in the case, Hunter lived rent-free in a big fancy house outside of Chapel Hill, North Carolina.
Young says that Edwards knew that the slutmoney was illegal but that he pressed his staff to use it on Hunter, anyway. Edwards and his Ken doll hair could be sent to prison for up to 30 years if he's convicted.
Coverage of Rielle Hunter makes me cringe because, to mainstream media, she represents a caricature of what a desperate unmarried does and wants, from the "stealing" of a married man to the manipulative pregnancy to the "expensive" tastes, some of which isn't all that out there (organic food?! We're begrudging a woman who was pregnant and/or caring for a newborn for wanting organic food?!). But at the same time, the whole affair is a bit of an orgy of harmful stereotypes — between John Edwards, the philandering sociopath who took advantage of his donors' good intentions, Rielle Hunter, the scheming spendthrift mistress who demanded thousands of dollars a month in hush money and used her daughter as a bargaining chip for financial gain, Andrew Young, the soulless aide who helped Edwards funnel the money to Hunter and said that he was the father of her son in order to preserve his terrible boss's masturbatory political career, and all the hapless donors who blindly wrote checks to a man incapable of governing even his own dick, no one looks good here.
G/O Media may get a commission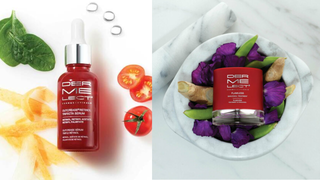 Save $19
Retinol Renewal Kit
This actually might be most cringe-inducing extramarital affair ever, even more cringe-inducing than that episode of Cheaters where the woman caught her male mate zipped up in a leather mask and mid-spanking with a dominatrix of formidable size. Although I don't recall anyone calling the mother of their child a "crazy slut" in that case.
[NY Post]