At a campaign event in a Wisconsin bowling alley yesterday, projected GOP nomination silver medalist Rick Santorum told a boy that he shouldn't use a pink bowling ball on camera, telling him that "friends don't let friends use pink balls." Bowling with the pink ball, presumably, is an affront to Rick Santorum's rigid sensibilities, a bending of holy rules that declare that men should always have blue balls.
Pink Ballgate happened while Santorum was hanging out with the University of Wisconsin-LaCrosse College Republicans in the run-up to the Cheesehead primary next Tuesday, and his comment about how men should avoid placing their hands on pink spherical objects was overheard by a Reuters reporter. Friends don't let friends use pink balls. But why would he be so strongly against such a thing?
Santorum could be opposed to the symbolism implied by a healthy pink ball. After all, in Santorum's ideal world of restraint and denial, men would be in a near-constant state of blue balls as a symbol of their undying devotion to the idea that sex is a dirty thing that you should only do with your Church-sanctioned wife when you want to get her pregnant. A pink ball is moral anarchy. It's chaos. It's hellfire!
Or maybe Santorum's uncomfortable with the implied gayness of a boy doing a girl thing, and toting a pink object is totally gay and verboten; a man running his hands lovingly down the smooth side of a bubble gum pink sphere is practically like gargling testicles in front of the Pope. The Human Rights campaign agrees with this theory and has denounced Santorum's "pink ball" comments as yet another example of the former Pennsylvania Senator's pervasive homophobia. (At this point, though, it's probably safe for them to issue a preemptive statement declaring all future Rick Santorum comments to also be homophobic and send their Rick Santorum Task Force on cruise through the Greek islands or something.)
But there could be something deeper at work here. Dodai suspects that Rick Santorum may be privy to some science that shows that when men handle pink bowling balls, they sometimes spontaneously transform into women because of estrogen or something. Jenna thinks that there may be a secret liberal cabal that donates to Planned Parenthood every time someone uses the pink ball. It's possible Rick Santorum has horrible memories of bowling an 80 with a pink ball once. (It's okay, Rick. We've all done it.) Or maybe Rick Santorum's aversion to a man bowling with a pink ball is rooted in the fact that Rick Santorum is a genitalia-obsessed homophobe with a God complex and no self awareness clinging for his life to the flimsy idea that in order for the world to continue existing as Santorum wants it to exist, boys must not bowl with pink balls. Is there anything gender or sex-related about which this man doesn't have a complex? And how far are we from the inevitable horrifying conclusion that Rick Santorum cries when he masturbates?
G/O Media may get a commission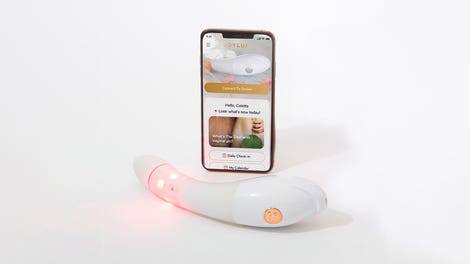 $50 Off
Joylux vFit Gold Device
To his credit, Santorum wasn't wholly against the young man using a pink ball in all circumstances, just "on camera." From this, we can infer that it would be okay for males to use a pink bowling ball away from the media, as long as they don't, like, shove it in everyone's faces and act all lispy about it. And now we have a new euphemism for a self-loathing conservative lawmaker who is secretly gay: "bowling with the pink ball off-camera."
Santorum tells young man not to use pink bowling ball 'on camera' [Raw Story]