Yesterday, as part of Paris Fashion Week, edgy fashion darling Rick Owens sent "real" women down the runway alongside professional models. It's a reassuring sight we've seen before — and one that we'll undoubtedly see again in many iterations (for example, DKNY did it earlier this month at New York Fashion Week, to much acclaim). But, while it's wonderful that non-modelesque women are finally seeing themselves represented in the fashion world, it's still worth asking: what are the more complex implications of using "real women" as a runway spectacle?
To me, it seems that there's an important difference between DKNY choosing to put "real" women on the catwalk and Rick Owens opting to do so. DKNY is Donna Karan's more affordable fast fashion diffusion line. It's marketed at the average person; the average person can afford it. That's not the case for Rick Owens, the endlessly cool, edgy arbiter of luxury "glunge" (a portmanteau he invented — a mix "glamor and grunge"). His stuff is quite expensive. Furthermore, as the Independent puts it, "he's not well known outside of fashion circles, but anyone passing an All Saints will be familiar with a watered-down version of his aesthetic." When Donna Karan outfits "real" women in DKNY during as part of her NYFW showing, it's a publicity stunt with a simple message: "This could be you!" When Rick Owens does so, though, the message is far more complex and the stunt more thought-provoking.
Last season, Owens replaced had a predominantly black step team model his collection, subverting most every industry convention. His models, most of whom were plus-sized by industry standards, didn't glide around a catwalk with picturesque frowns on their faces — instead, they stomped and danced and mean-mugged. This season seems to be an extension of the principle that informed that: a sort of reverse "normcore," a statement made by putting "normal" women, average humans who ostensibly don't belong in the exclusive upper echelons of the fashion world, in the most coveted position of all. But what is that statement, exactly?
G/O Media may get a commission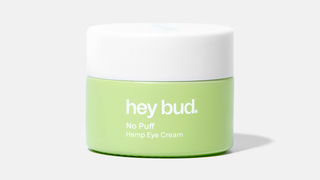 15% off
Hey Bud - No Puff Hemp Eye Cream
Robin Givhan at The Cut argues that it's about invigoration: as she sees it, Owens' designs possess a "shapeless idiosyncrasy" when worn by models, who are, by virtue of their profession, "adept at suppressing their personality in the face of fashion." When worn on "real women," though, the clothes come to life. "Ultimately, [the 'real woman's'] personality gives the garments their structure," she affirms. In a sort of similar vein, Booth Moore of the LA Times sees the runway show as a "call for female empowerment... a collection of street-tough urban uniforms modeled by every woman." This (very positive) criticism is fairly telling — in this understanding, the supposed blandness of the everywoman becomes a statement in and of itself: the unmarked identity of the regular person is the most notable part of an edgy, high-fashion getup. We're more struck by the woman with a few visible wrinkles than we are by the bizarre, oxblood, cocoon-armed coat she's wearing.
Critics of normcore, the fashion movement that seems to be the direct opposite of what Owens, DKNY, et. al., are doing, have pointed out that "fashionably wearing 'ugly' clothing" is only a statement for certain types of people: the young, conventionally attractive, relatively wealthy and overwhelmingly white people that the fashion industry courts to the exclusion of all others. Not just anyone can "do" normcore, which means that the trend is pretty much business as usual — just with added fancy rhetoric and a bit of baffling logic.
Owens' runway show is the exact opposite of that (which, importantly, doesn't make it unproblematic). Because the women modeling Ricks Owens are not young, hot, and/or wealthy/mostly white, their very identities become a statement on the runway. I don't know if this is as much about empowering/invigorating as it is about interrogating: what does it mean that "real woman" is a marked identity in fashion, something that is always greeted with much fanfare and acclaim and frenzied discussion? And can we even say that the "real woman" is "real" if her presence in the fashion world is always greeted by a pronouncement of "FINALLY, A REAL WOMAN!"? Is the tide turning, or is "realness" just being co-opted as a trend or talking point?
Images via Instagram.